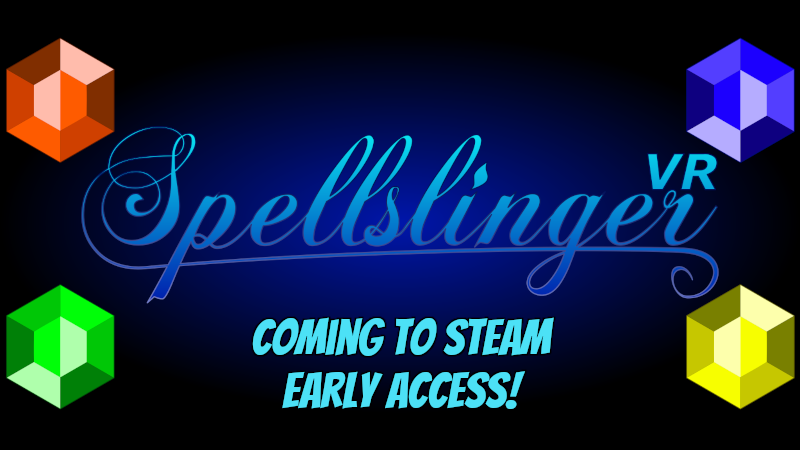 Greetings, adventurers, spell casters, gamers, and virtual reality dwellers! Today is a great day, as we get to announce to you all that Spellslinger VR, the magic-based action-adventure role-playing game set in VR, is coming soon to Steam via Early Access! You may be wondering, "What do all those hyphens and buzz words mean to me?" Well, friend, they are a call to adventure! An immersive virtual world to lose yourself awaits, chock full of critters and baddies to combat with intense spells. Grow your character by acquiring gear upgrades and level-ups while growing as a player by mastering the unique spell casting system.
Run, jump, and explore through a varied world, solving puzzles and assisting your village. When danger presents itself, you'll be ready with a slew of elemental spells, each cast by performing an associated pattern of movements with your hands. As your muscle memory improves, you'll be slinging fireballs and slicing enemies with sheer wind quicker than you can say, "Spellslinger VR!"
Spellslinger VR is going to be launching in Early Access on June 14th as an action arena with most of the planned core game features already included. As we continue to develop the game, we plan on adding a full story campaign, equippable items, immersive ways to interact with the environment, and tons more! Refer to our Steam page for more information about the Early Access and future plans. We'll also be posting Devlogs regularly, so keep an eye on those for more information about future plans and current progress!
We want to thank everyone who has helped get Spellslinger VR to where it is today, and we also want to thank in advance everyone who supports the game as both it and its community grow from here on. We invite all of you to be active members of our community here on Steam, and there on Discord, Instagram, and Twitter!
Steam Page: Store.steampowered.com
Discord: Discord.gg
Twitter: Twitter.com
Instagram: Instagram.com