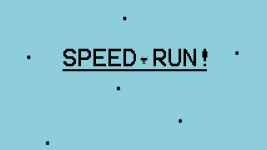 Hello everyone.
Alpha 1.2.5 has been released for Speed Run!
Why 1.2.5 not 1.3? as announced in 1.5 version 1.3 would implement either enemy's or another form of object to add difficulty to the game and that is still coming.
So what did we change in 1.2.5?
Support for 3 preset resolutions : 720P , 900P , 1080P all at a 16:9 aspect ratio.
Removed many untidy and unused pieces of code that was using up resources.
Fixed various glitches with respawning.
Added debug menu (Activated by F3)