This update brought to you by the letter O and the word YEAH! Now that the world engine is stable, we brought back some of the past features you enjoyed, and introduced our new bases for you to conquer! Watch this vid for all the lovely details.
BONUS! Subscribe to my YouTube channel as we give away free copies of Spark Rising each week!
There's lots of new stuff and for the first time, you can start to get a sense of what we wanted to achieve in conquest mode. Each world in our game is comprised of several floating islands. Yeah... they aren't quite worlds anymore thanks to the bloody madness of la God whose rampage across the universe has destroyed much of what we know. You're intent on taking the supreme being down, and you gotta conquer one world at a time, building up your power to do the seemingly impossible.
Each world is infested with the loyal servants of Akua the Mad God. And they know you are coming and have bunkered down. You pretty much gotta plow through them to get to the big guy himself.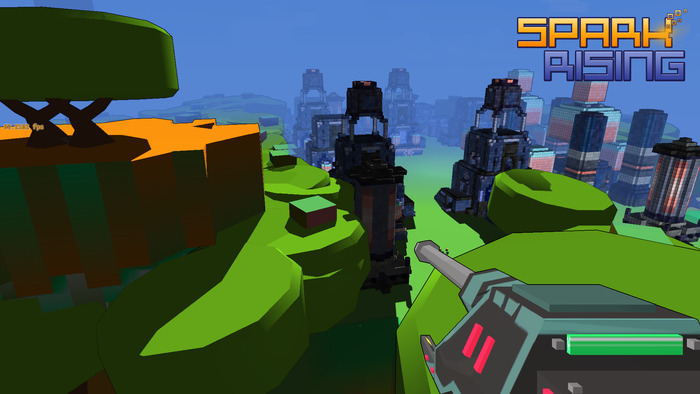 But taking out each base requires a bit of strategy. Each base has a unique effect in the world, and taking control of each one will change the flow of battle. When you deactivate the shield generator, the force field around the HQ is vulnerable. If you need more ammo, taking out the munitions depot will do the trick. If you fear enemy reinforcements will disrupt your plans, then take out several enemy bunkers. The framework for how this plays out is now mostly in place, so with each update, we'll find new ways to make each world feel like a unique battle that needs to be played differently. There will be new objective types, different types of specialized loot you get for conquering a base, and different ways to blast enemies to smithereens.
I also love how we are able to more fully realize the world terrain now. It's quite stunning to look at, as it mixes simple geometry, bright colors, and voxel structures all together. We still want to give the terrain a few more passes so that we can introduce highly variable designs to each world.
As I continue to evangelize, early access is a two way street. We share with you a game early on in development, and the game can only get better with your feedback. So please do hop over to our Steam forums and share with us what you think we can improve upon. Thanks all for your support, and we look forward to cranking on Spark Rising Early Access 4.0!