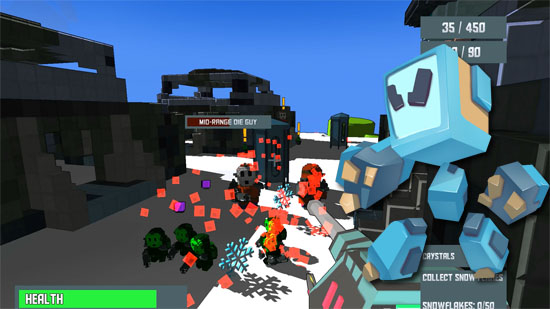 Hello Spark Fans!
We're pleased to finally share with you the latest Spark Rising update, Early Access version 2.0! This was a long time coming, many months of rebuilding our game engine, changing up mechanics, and establishing a stronger foundation for the game. The game ongoing is a reflection of concepts we put together in our last 4 Gaidens, and we love the overall direction!
Rather than list the 1001 things we completed in a way-too-long-changelog, here are the more noteworthy changes:
All new terrain that allows for significantly larger maps
Travel from world to world
New movement mechanics
New grapple hook
New enemy AI system
New power ups
Boost system lets you collect crystals to charge up super powers
New shaders that give the world a more vibrant ultra colorful look
Winter theme!
Reintroduction of the Die Guys!
ONGOING UPDATES
Ongoing, our major updates will come out about every month or so now that the core engine is stable. You'll see hints of what the possibilities are for Conquest Mode in this build, and we're antsy to finally get to deliver that to you soon.
SPARK RISING LEGACY
So what happens to the older builds where you could create stuff? All that is still accessible in this build via a separate executable, but will be sunset by the next major update or so. Ongoing, the main mode will be Conquest Mode, with various features integrated into one big experience.
Such features as being able to create your own fortress will be overhauled and relaunched in a future update.
THANKS TEAM & FANS!
This is also a great time to thank everyone who helped make this grueling refactoring possible. Thanks to the team: Kevin, David, Christian and Jonathan, and John Master Lee for some cool stuff. And thanks to everyone else who has helped us conceive, prototype, and tighten up the game concept over the last year. And for hanging in there as we completely rewrite the game code! This also goes to all of you. The spark fans who have come along for this early access ride. Your feedback has been really amazing and the game is better for it!