Thank you to everyone who has followed the project here and on my Twitter. I really appreciate it.
I'm still working away on UNION. Not as much as I'd like perhaps, due to work and family commitments, but as much as I can.
Engineering is the beating heart of every ship in UNION, so it is the UI that I have been focusing on the most. I'm finally at a stage where I think it's good enough to show.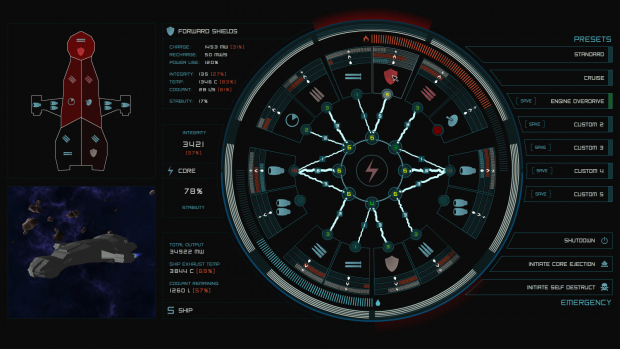 This is the UI which the ship Engineer will use to manage power and damage control.
Power connections are made from the Core to each system (shields, weapons etc.) by dragging from a Core node (the circles surrounding the Core) to the system.
Hovering over a system, hull segment (the white bars surrounding the "wheel") or shields (the blue bars surrounding the "wheel") will give detailed info on it in the top left (in this image Forward Shields has been hovered over).
Clicking on a system (or hull segment) will show the player options for that item (e.g. power settings, heat/coolant management, repair options).
Presets allow the player to quickly switch between configurations. Two presets are provided by default, Standard and Cruise; other presets can be created by clicking Save beside one of the custom presets.
Heat is one of the most important elements for an Engineer to monitor and manage. Too much heat can damage systems and it also makes your ship easier to detect, lock onto, and hit.
Each system, and the Core, has a stability rating (0% to 100%). This rating is from a combination of the system's heat and the integrity. High heat and low integrity lower the stability of the system. Systems with a low stability are more likely to suffer faults (fire, power surges, explosion), especially when they suffer damage.
The picture above is of the in-game UI, however it is not yet complete. I have to add the elements which will be common to all screens and there is still a lot of programming to do to get everything fully working.
Thank you for taking the time to read my update. I'll try not wait too long before the next.
I'd appreciate any feedback you could give in the comments.
All the best,
Mark