I'm proud to announce the latest update to SpaceJourney in Version 1.2.1!
What's SpaceJourney?
For those of you who haven't heard of SpaceJourney, it is a sandbox game that combines first person shooting, space simulation and adventure elements.
You're basically a space captain in a ship piloted by only yourself. And there are plenty of dangers out there in that big unknown wanting to either eat or destroy you. You can walk inside your ship, walk outside of it (using anti-gravity) and walk around locations you've docked at (so far I only have a measly little space station you can tromp around in, but its better than nothin' right?). There are enemies that you'll fight with your gun (i.e. spiders, blasting meteors, etc) in the style of a first person shooter and enemies you'll fight ship to ship with your vessel's defense and weapon systems, in the style of tactical combat games.
What's New?
Aside from fixing annoy glitches here and there, the biggest update are three new functions to the gun: RUDDER, STATS and JUMP mode. All three of those functions were designed to make things simpler and more efficient for the player.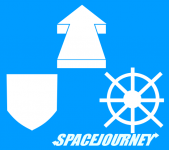 STATS MODE: Pressing the shield icon on the left gives the player the status of the ship. Ship stats will tell the player what the strength is of the ship's hull and shield. Written as so: SHD = shield strength, BDY = hull \ ship body strength.
JUMP MODE: The Arrow icon on top is the "jump" function. In version 1.2, there was a progress bar added when you starjumped-- telling you how much longer the jump sequence would last. So now that feature can be displayed on the gun. Also, this function will show the player their score-- points they get when blasting rocks away, fighting spiders or even disarming warships.
RUDDER MODE: The steering wheel icon to the right is the new "rudder mode". Rudder mode allows the player to steer the ship from the roof of the ship and regulate the speed from the gun. Basically, you press the trigger button and the ship will steer in the direction of the blue laser.
If any of these are confusing, please check out the trailer above! It shows off all of these new gun functions in action!
What's Next?
In the very next update there will be smoother aiming with the gun and a save feature. On paper that doesn't sound like much, but I've been wanting to release more updates in smaller time frames. And saving is a standard feature most people expect.
Down the road, there will be a 5th sector (and possibly 6th) and more explorable ships. Like you know that Zeetog warship you destroy in Sector 3? I'd like you to be able to board that vessel. Also, a freighter will play a bigger role in the game. I also want to add a currency-- what I have in mind for that will be discussed more when I get closer to adding it.
You can also expect there to be more functions added to the gun. Just as a few ideas to throw out there-- you could easily see a mini-inventory, object grabber, object scanner, a function for managing currency and a mini-map. How all of these functions will end up on the gun is probably by using the back console and loading the gun with more functions, while only allowing the player to use three at a time.
That's the gist of it! I hope everyone enjoys the new update!