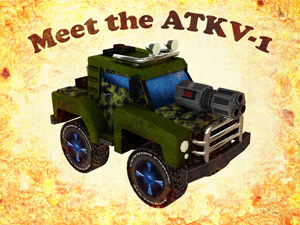 Some may already know, but for those who don't the main player character for Space Safari is a vehicle called ATKV-1 (All Terrain Kill Vehicle). This is a jeep-like vehicle with armor, weapons, and special abilities. Today we wanted to go more in-depth about this character and the available powerups and upgrades. At the beginning of the game, the ATKV-1 is in it's most basic form and comes with a standard frontal cannon and spring loaded wheels which allows for jumping. As you progress further into the game, there are various powerups that can be picked up, as well as various upgrades after each level. Once the permanent weapons and upgrades are unlocked, they can be used in previous levels as well. Below are more details about these powerups and upgrades.
Please note that everything below is still a work in progress and may change in the actual release.

Throughout the levels, there are powerups that can be picked up, most of which drops from enemies. These powerups are:
E-Tank – Picking this up will restore your health.
Amplify Damage – Increases the damage of your weapons for a limited time.
Shield – Creates a shield around the ATKV-1 and absorbs a certain amount of damage.
Ammo Box – Replenishes the current weapon's ammo count.

After completing levels successfully, certain upgrades are unlocked automatically. These upgrades are:
Double Jump – Thrusters are attached to the rims of the wheels and allows for double-jumping.
Magnetic Rims – The rims of the wheels become magnetized and allows the player to attach to certain surfaces on the ceiling.
Tire Spikes – Spikes shoot out of the tires and allows the player to stop on a dime during windy conditions.
Heat Shield – This upgrade replaces the standard shield powerup to allow the player to enter extremely hot areas.
Underwater Mode – This upgrade allows the player to enter underwater areas. More details about this below.

Also after completing certain levels, certain weapons are unlocked permanently. These are:
Rockets – Allows the player to fire rockets upward which move in a wavy pattern.
Homing Missiles – Replaces rockets and automatically tracks air enemies.
Mines – A mine that is launched from underneath the ATKV-1 that explodes after a certain amount of time or when it touches an enemy.
Improved Cannon – Replaces the standard cannon and is slightly more powerful.
Laser Cannon – Replaces the Improved Cannon and is more powerful.
The following weapons are picked up like powerups, but it seemed more appropriate to put them in this section instead:
Chaingun – Comes with rotating barrels and allows bullets to be fired rapidly.
Spreader – Has three barrels at different angles that allows for three bullets to be fired simultaneously.
High Explosives Cannon – Allows firing of high-explosive rounds which explode on impact and can damage multiple nearby enemies.

When this mode is unlocked, entering underwater areas will transform the ATKV-1 into an underwater vehicle with thrusters. While in this mode, certain unique abilities and weapons are available:
Speed Boost – A short burst of speed allowing the player to get through certain hazards.
Torpedoes – Replaces rockets and missiles and is basically an upward shooting rocket.
Depth Charge – Replaces mines and explodes after a certain amount of time or when it collides with an enemy or the ground.