From the beginning we had a different thought with RymdResa (we're talking early, early in the progress). We just wanted to make an experience where the player was flying around and reading short poems, floating in space. But RymdResa has become much more than that, and isn't just a text-based game anymore. And we also skipped our very first feature: floating poems. Instead the diary pods were written. But we have always wanted to add some floating poems as well, and have now done so, and they're really adding to the atmosphere! As a tribute to our very first RymdResa design thoughts.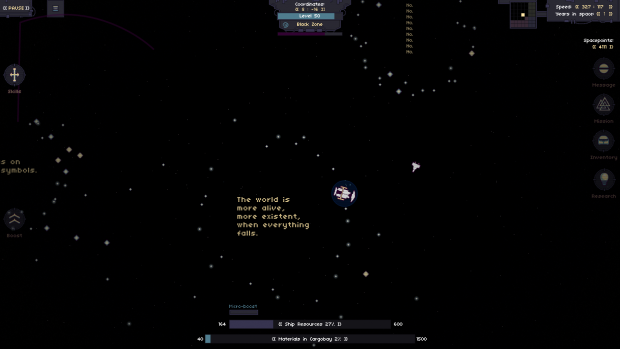 More things we've implemented
★ 20 New diary pods to investigate.
★ New exploration quests.
★ Treasure boxes, where the player can find items.
★ Some rare new zones.
★ New dangerous laserbots.
★ A pause function. Pause the game when playing!
★ A comparison system between items in inventory. It's now more easy to compare your items!
★ More player feedback: the inventory - button is blinking when the player has collect a new item. As do the skills - button when the player has new skills to upgrade! Player feedback is important!
We're also calling out for beta-testers, we need some people who can test the game with a grammar and spelling perspektive, helping us to locate those mistakes in game. Are you interested? Send a mail to vendela@morgondag.nu
Below you can see laserbots (to the left), and a treasure box (to the right).
Another screenshot: