Desctructable walls
You know that you could blow up walls so far which have a crack to enter secret or bonus areas if you played the last version.
You need bombs though to blow them up which you dont have infinite.
I now implemented thin walls which take damage when you shoot at them (simple standrad laser damage)
They have several damage stages and are a lot of fun to shoot at.

These walls allow a more fun leveldesign, add some fun choices and also let the player have more impact on the level. Take a look:



Diaglogue & message system

I realised that i am too limited right now to tell a story.
Adding a story (which still the plan is) adds a lot of depth though.
I have dialogue systems for major events but only had simple text notes in the level itself.
I crated a speech bubbles system which i can trigger in the levels:

This is what it does:
• Trigger linear comments in the game world (using numbers in a list)
• Start a dialogue with an NPC and define the reaction of NPC
• Game will pause during dialogue

Still a bit dirty but its getting there: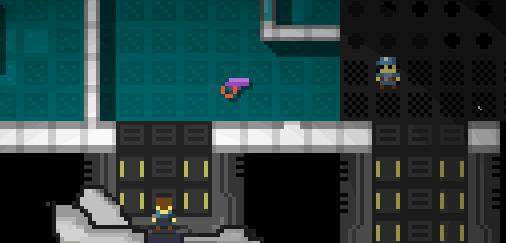 Both features will be in the next release!