Well. Everybody is showing stuff off their mods because of the anual award, so I thought I should show something.There hasn´t been any updates in the past eight months, so everybody (if actually anybody cared) must have assumed the mod is dead by now. Nothing farther from the true!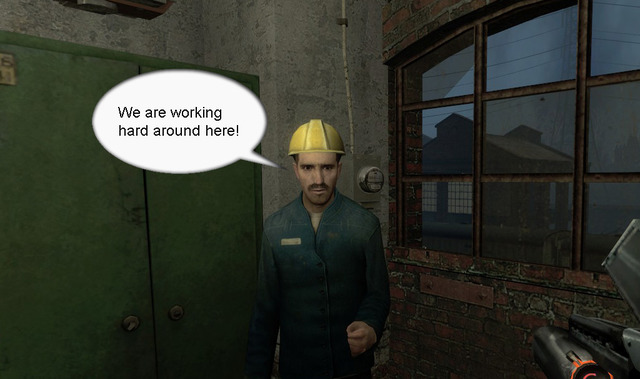 I´ve been working on this a lot. Of all three maps this is going to have, the second one is 99% done. I´ve done lot of models and textures, I´ve done quite a lot of sounds too and I finally got the help of a couple of voice actors. I´ve improved my skills in some departments and opened the range of areas in where to apply them. I´ve been making choreo scenes, lipsync and even scripts.
I also keep my plan of creating all custom stuff by myself, I´ll have to make an exception with the CZ pistol and some trees, but everything else will be 100% original and exclusive for this mod.
The other two maps are very advanced too, they need lot of work regarding scripting and gameplay which can take a lot of work, but having this other map practically finished, motivates me a lot to getting them done.
What is going to be a pain in the arse, is porting the mod. In all this time, i have been building it inside the ep2 folder. And I read that there are quite a few things that don´t work when you move over Source SDK 2007. So if anybody reading this has already gone through that and have a few tips, don´t keep them for yourself!
Finally, I want to make a special mention to these guys that have lended me a hand in all this time: Aaron Ho, Michael Crisp and Perry Liston have provided their voices for some of my characters. Mike Norvak has made a couple of sounds for me and also taught me a few useful things about sound. Mikko Sandt and Ryan Rouse provided advice and one of them is the alpha tester (which turns to be very useful, as it´s always better to know when something you´re doing is crap before keep working on it).
So yeah, if you have nothing to do, vote this mod for that year thing. It wont win, nor I´m expecting that to happen but at least have a look at the screenshots i posted today!