With the first Terra map just about complete, save the apartment complex's interior and some other little details, I've started working on the second city map.
So far the above water part is the closest to being done, as it breaks down into above, underwater and sewer system/interiors.
This level will also need the player to have found a Rebreather(replacement for airtanks) which I plan on either lasting a very long time if not have it last forever.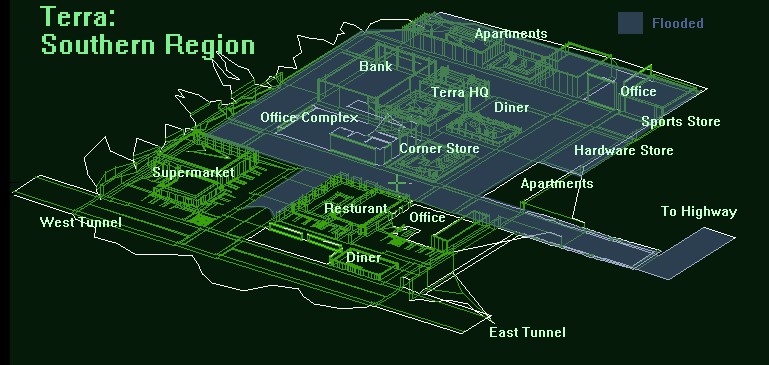 Connecting the first map and this one will be a sort of sub map, containing the flooded highway, canyons and a busted dam. In addition to standard enemies I will also have some enemy space ships that perform flybys, for a little added danger in the highway map.
But I haven't started that one yet, so lets look at the southern city map.
A HQ for the Solista Defense Station also contains a shuttle for travel to the second planet Serra, however it will be inaccessible from above water. The north west apartments, office complex and the office located near restaurant and diner will be special plot points in the game.
The diners, stores and some offices will have interiors.
As for the Terra world as a whole, it will have about 6 maps in total. North, West, South, East, Highway(NS) and Highway(EW)
At this point Luna will only have 3 maps at the most. Involving mines, colonies and a wilderness zone.
The first two enemy sets are nearly finished, with a little work needed on the jumping beetles.
AI still needs a little work, to keep the droids from hugging into corners, but otherwise they seem to be operating as I've planned.
Other planned changes are increasing the blast spread and count of the Blaster which replaces the shotgun, but its damage will be reduced to compensate for this.
Still need to design new weapons replacing chain gun, rocket launcher, and devastor. The icegun will be changed into a tesla type weapon. Pipebombs will be replaced with ball grenades.
In reference to my last news post to penalties when killing/assaulting neutral NPCs, I've also planned on creating some critters. Among them cows, cats, dogs, rats, fish and birds. You'd be penalized for killing a cow, dog or cat, but not for rats, fish or birds.
The idea is that it will encourage the player to have more control of their shots when confronted with a situation involving innocents and enemies, or you can just eat the penalty and go crazy, its up to you.
I'm planning on making the player responsible for enemy kills in the sense that you're supposed to be providing the planets defense against assault and destruction, but I'll have to see how that plays out.
The eastern zone of Terra will be more rural, while the west will be the industrial zone, the main cities in the center.
Here's a test demo of the flooded city