South America and Africa game now open!
The South America and Africa theme scenario has been opened and welcomes all virtual airline managers onboard.
This is a special regional game world lets you take control of an airline in the South American or African continents. Your HQ airport must be located in either continent but you can fly globally to any destination. Your airline may also expand with additional base airports in any country within the same continent as your airline. In this scenario you can for example build a short-haul commuter airline in Brazil or fly longhaul from Africa to Europe/Asia.
The game world starts in the year 2009 and continues to 2020, with overall duration of about 2½ months. The overall passenger demand is adjusted from the normal calculation to support the higher traffic level in these continents in this game world.
Now it's the perfect chance to try something else and discover new routes and new airports! Play the airline sim at: Airwaysim.com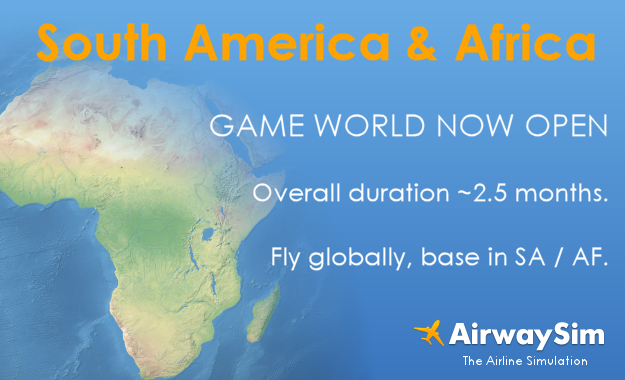 New features and updates
The latest new features and changes in our simulations are:
Airline Score is introduced as a new feature. Purpose of this value is to create a single and simple value to compare airlines where simply being biggest is not automatically the best. The score replaces the old airline value fields in all airline listing pages. It is also visible on the detailed airline information page. Details on the calculation method of this value can be found from the forums.
The airline statistics page has been improved and it includes now a better ranking system with trend indicators. Stats update now once every month.
Two new statistics added: Average aircraft condition and Average fuel burn per passenger.
Alliance's variable score calculation is updated slightly (details at the forums).
Boeing 787-10 aircraft data added, and whole B787 series data is checked.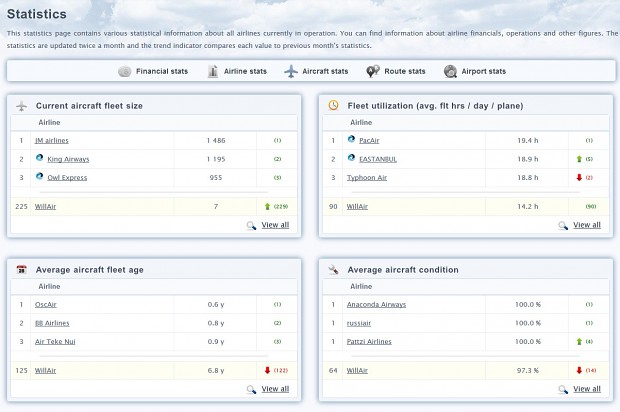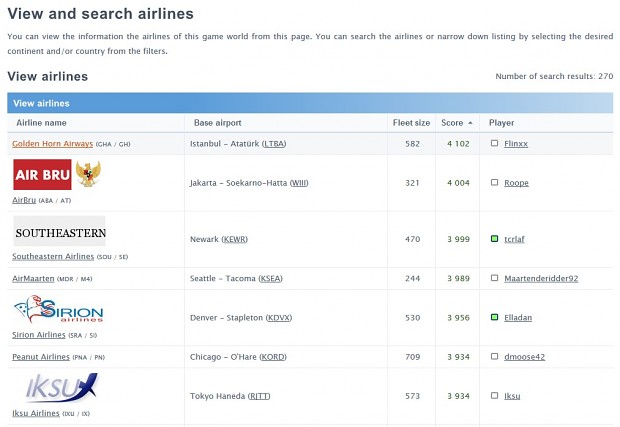 Airline simulation
AirwaySim's Airline Simulation is a realistic multiplayer online simulation for the serious aviation and business enthusiast:
In AirwaySim you can create your own airline and build your very own airline empire, you are the airline CEO.
You will start off small with older used aircraft and work your way through to the big leagues of large international air carriers. Or you may choose to run a small regional carrier if you like - you are fully in charge.
Expand your airline with new routes and aircraft and open new base airports. Manage the ticket prices, staffing levels and route schedules of your airline to optimize your profits. You have dozens and dozens of possibilities and functions available to manage your airline.
You can choose to play in the historical scenarios with old propliners or in the modern ages with new jets.
Compete against other managers worldwide - all management moves directly affect the other players. You can also team up in airline alliances.
AirwaySim includes realistic and complex financial model with powerful reporting tools - a true business simulation.