Hi everyone
We're proud to announce the next version of the SORS demo (v3), and it features some key changes which hopefully will make the game even better to play. Here's a list of the major changes from v2.2:
1. UI – taking advantage of Unity's new UI system, and getting some help from a great UI artist (@swetq_Stanislav), we've got a new UI in place for the email and diagnosis guide screens. This means the game looks nicer, loads faster, and the information is easier to read also.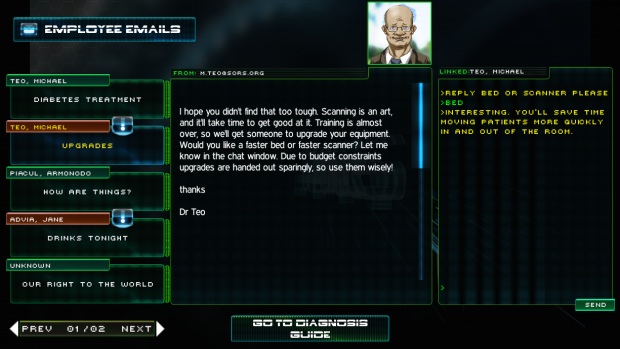 2. Scanner reticule – In earlier versions the scanner reticule didn't give any feedback to players. After some really good feedback on this, we've added 2 specific things – the reticule kind of rumbles now when you click (a la Vlambeer, and this talk), to show your input has been registered, and it changes from red to yellow to show the cool-down between clicks. Hopefully that'll make the process of learning how to best scan patients clearer and easier.
3. Learning curve – Originally the first scanner disease players faced was osteoporosis, however it was clear from player feedback that this disease was too complicated to be the first one players faced. So we've added in a new disease – diabetes. Diabetes has a much simpler graph to interpret so should provide a smoother learning curve for players to get used to the scanning gameplay.
As always, we love to hear feedback, so please get in touch if you have any about the demo. Depending on the feedback we get, we're looking to release the game early Jan 2015.
Thanks for reading,
Rich