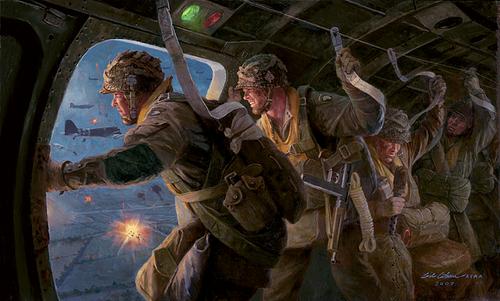 After a huge amount of time and effort, Blitz II has finally reached Release 3! It's time to jump! Go! Go! Go!
A huge number of people have contributed to this mod over its long life some of them need a really special mention. Firstly thank you to Neo who has done so much work for the mod and whose unwavering enthusiasm kept me interested and committed.
Secondly a big thank you to Flyby. His efforts since the start of the mod are responsible for so many of the cool code tweaks that are in the final game. His willingness to share ideas meant for his own projects gave us many things we adapted and incorporated into the final mod. He is also responsible for some of the coolest models in the game. Thank you so much!
Another guy who needs a huge huge thank you is Topknot. I have no idea if he is ever likely to read this since he went AWOL and has never been seen since, but THANK YOU! Our model dump has a huge number of unfinished models, but so many of them were fixed up and UV mapped by Topknot. He saved me months of work by fixing these things up and raised the bar of quality. Even if he never hears of it, his work is hugely appreciated.
Thank you to Killakanz, some of our best models are his creations and he allowed us to shamelessly pillage his side-project for our own nefarious ends. Many thanks to Logan for sharing his huge wealth of expertise and helping to create our weapon tables. These formed the basis of our unit stats and his attention to detail helped to create the anomaly of a historically accurate AND fun mod!
A massive thanks to our Beta team, especially the "old guard" who were committed to the mod even through the bleakest of times. The nigh-on fanatical commitment to this mod kept it going and alive, while the two years of beta testing and refinement has helped to refine it into one of the sharpest and most fluid RTS mods I have seen.
The former mod leaders and team all need to give themselves a huge pat on the back. While the team carrying the batton the final leg has been pretty small, the team past and present was vast. As I mentioned, many of the models that were part-done or half-done were completed and finally made it into the mod. Building something of this scale from scratch would have been daunting as hell, but having such a huge art pool to draw on saved countless hours and helped bring the release 3 to completion now rather than in 2012! Maybe "ex" team members are anything but with people still contributing and working on things, just not in a full-time capacity.
Finally thank you to everyone who plays and loves the mod, it would have been very hard to make it this far if we thought no one would want to play Blitz when it was done. Oh and thank you to my gold fish and to the neighbours dog and the cat and to all the little babies and children in the world.