A doom 2 mod that takes place in the Sonic World that has been attacked. Lot of platforming, springs, and more !
Many monsters from Hell started to appear in a new world... The Doom Guy heard of it, and decided to rip and tear all the baddies... But this world has some mechanics the Doom Guy was not ready for...
In this mod, the rings heals you, no medikit. You still are blocked at 200 HP, but you will be able to continue to pick them up, for a waste, so be careful :).
Springs and platforming are also here, and it may be difficult if you're not used to ! But it's not that complicated for you to enjoy. Most levels also have shortcuts (with teleporting right now) if a platforming section is too hard for you, but you may miss a secret.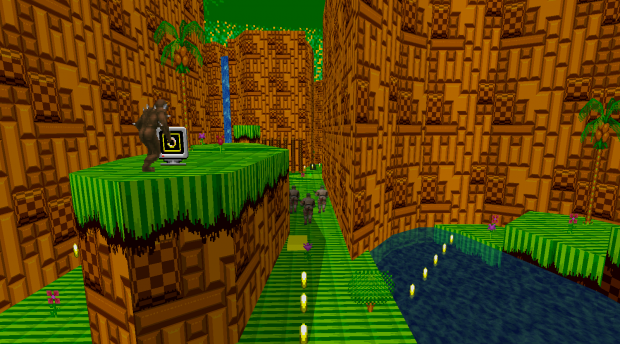 Currently there is no real story, as the mod is not finished, so you just go through each level. This will change in the future, with most likely a hub level to choose where you want to go.
Also, did you heard about the Red Star Ring ? They will be present in some upcoming updates in every level, to encourage you to look after them in each level. Their uses will be when the hub level is implemented.
Playable in both singleplayer and multiplayer coop. Works on Zandronum and GZDoom, not tried on other engines.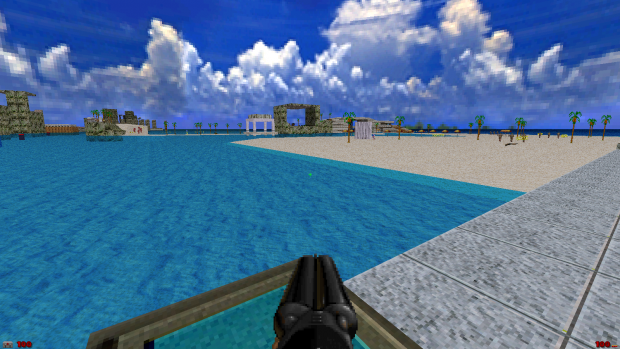 FAQ
- Wait a minute, I did already played this mod, on online servers !
Well, yes. The last version released on these servers are the "Sonicworlddoomv24.wad", which is very outdated, and has many, many flaws. It's still playable thought, but I would not recommend it (a bit less than 30 maps). Right now I am working on this mod to make a big release that is worth your time.
- What levels do you plan to create ?
I don't know, until I get bored. I am really close to 32 maps, so it's already great. About the 3D Sonic levels (like Sonic Adventure), they are modified to suit the Doom gameplay. Also I won't do all Sonic 3D levels, because eh... it's not that interesting to play since it's mostly straightforward. Only a few will be present.
- Why did you created this mod since there are already some Sonic mods on Doom ?
Because I did not liked them much. Wads like "Super Sonic Doom" are good, but I wanted a more closer experience in the Sonic World with the Doom Guy.
- Your mod name is very close to a fan game, Sonic World. Related ?
This wad has nothing to do with the fan game "Sonic World". In fact, I only heard of it after I started to work on my wad.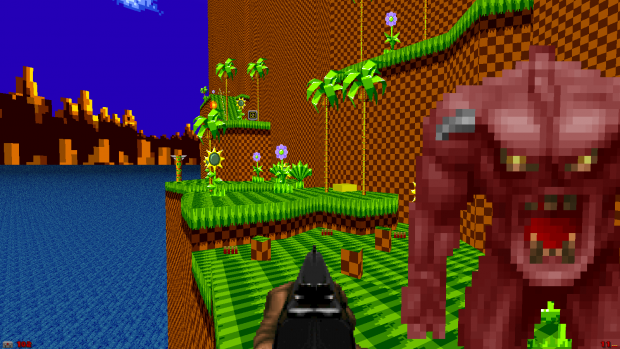 Levels that have been created already :
Sonic 1
Green Hill Zone Act 1
Green Hill Zone Act 2
Green Hill Zone Act 3
Marble Zone Act 1
Marble Zone Act 2
Marble Zone Act 3
Sonic 1 Special Stage
Spring Yard Zone Act 1
Spring Yard Zone Act 2
Spring Yard Zone Act 3
Labyrinth Zone Act 1
Labyrinth Zone Act 2
Labyrinth Zone Act 3
Star Light Zone Act 1
Star Light Zone Act 2
Star Light Zone Act 3
Scrap Brain Zone Act 1
Scrap Brain Zone Act 2
Scrap Brain Zone Act 3
Sonic 1 Final Boss
Sonic 2
Emerald Hill Zone Act 1
Emerald Hill Zone Act 2
Sonic Adventure
Emerald Coast
Windy Valley
Sonic Robo Blast 2 (fan game)
Greenflower Zone Act 1
Greenflower Zone Act 3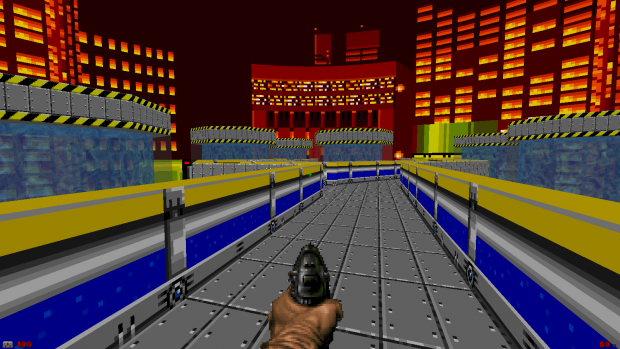 A few other levels will be done. At least the whole Sonic 2 will be. After that... We'll see :).