I'm having to tear myself away from the opening day of the Sonic Amateur Games Expo 2009 to write this - but rest assured, it's worth it. I may not yet be ready to produce the next demo, but if I keep up the pace I've had this last month, well... let's just keep our fingers crossed and leave it at that, shall we?
First thing is first: I finally and completely finished Sonic's menu... thing. All I had left to do from last month's update was write something that showed what skills Sonic currently had with a little text descriptor for what they do.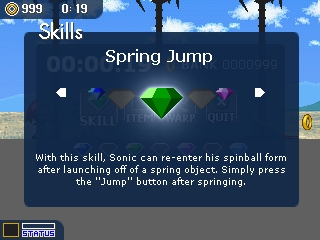 Like all the other menus in the game, simplicity was the key. No need to over-complicate things! Speaking of being over-complicated, the old code I had in place for springs was messy really messy and over-written. It used one spring object with the ability for "modifiers" to be applied to it on a per-spring basis to make the spring stronger in strength if need-be. It sounded like a cool idea initially, but it's actually been sort of a headache so, when I found out the springs system had somehow been broken again, I tore it all out and re-wrote it with something a little more logical and familiar: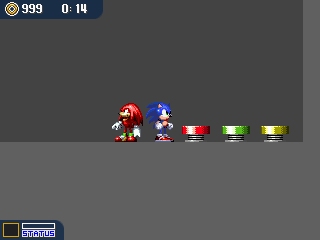 Colored springs! Each color represents its strength - green springs are obviously the weakest of the three, sending you with a little bit more velocity than a normal jump would. Yellow springs are a little less than twice the velocity of a normal jump, and red springs are somewhere around 3x the velocity of a jump (which is pretty ridiculous when you see it in action). I'll probably end up adjusting their strengths at some point, because red springs are a little too powerful to be useful right now, I think.
At this point I probably don't have to say anything about the other little stuff I've been doing, tweaking and polishing various elements of the game (such as modifying launcher ramps a little bit so they operate with a little more consistency). As such, we'll just move to the big announcement of this update (click to enlarge):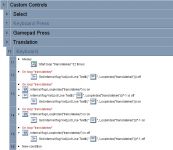 Multimedia Fusion provides a lot of feature presets that you can use, but the majority of them, to anyone serious about making games, are pretty poor. Thus, like a lot of things in Multimedia Fusion, if you want something done right, you have to do it yourself. Keyboard users could customize their control setup before, but TFH would never save their control config; you'd have to change it every single time you launched the game. Well, that little bit of MMF code in the image I linked solves all of that - not only can you save and load customized keyboard bindings, but you can even customize what gamepad buttons are bound to specific actions. Almost any button setup is possible. Which brings us to the next piece of news: TFH's default controller layout is changing!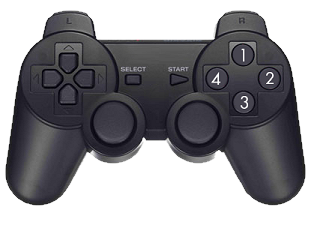 This is how Multimedia Fusion "sees" a gamepad, with four numbered face buttons. Previously, I added buttons as I needed them, so button 1 was "Jump", Button 2 was "Action", Button 3 was "Interact with NPC" and Button 4 was "Open Menu".
Gamepad setup is very important to me, because I design and test TFH exclusively with a gamepad (and if you're playing TFH, I hope you have a gamepad, too - you can get Playstation 2 USB adapters for around $10). Now that I can assign anything to any button with ease, I took this opportunity to step back and rethink TFH's button placement (click to enlarge).


In the new control layout, the "Jump" button is the center of attention, as it is the most important button in the game. To the left, the "Action" button, the second most important button in the game. Utilizing NPCs is pretty important, so it's on the right of the "Jump" button. Finally, the least important button in the game, the "Menu" button, has been moved to a position that will require you to move your finger off of the "Jump" button to press it. All told, it's a much more natural button layout. If you've played a lot of TFH, it'll take some getting used to, adjusting to the new button locations, but in the long run it'll be worth it.
And that's it for July's update. As I get through the "to-do" list, we're starting to come to things I would, believe it or not, rather not spoil for you guys. I may actually start running out of things to write updates about! We'll see what's up next month.