Hello everyone, In this week's article, we're going to delve a little deeper in Somnea's concept. Previously, we've cited our main inspiration as user created content such as Little Big Planet and Youtube.
The reason we chose these is due to the success of both the platforms. Little Big Planet has an incredible level editor and furthermore, we see everyday that the community actively participates in the user based content. As games creators we know that it is extremely rewarding to create something fun, to share it with friends, and to see total strangers enjoy the product.
That's why one of Somnea's main features the editor. Allowing the end user to easily create a level. We've decided to push it to the next "level" and are allowing users to create custom graphic assets for use in the editor. From the main character, enemies and levels' tilesets, every single element is customisable and can be shared with the entire community. We are currently working on making the editor as easy to use as possible to really support the community that will be creating the levels.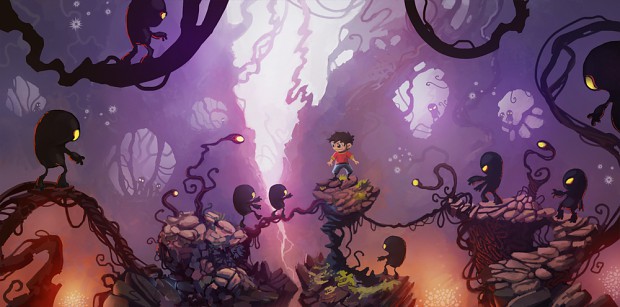 Then there's Youtube, which is also a large inspiration behind our editor. Everyone who uses the internet knows how easy creating, uploading and sharing Youtube's content is. We're trying to do the same with our level editor.
For example, if you create your own level in Somnea's editor or just want to show a really good level to your friends, it will be very simple to share it. Each level will have a custom url. All you have to do is copy the url address of the level you want to share and send it to whoever you want. In addition, there will be an option which will allow you to embed the level on your personal webpage or blog, so anyone who visits your personal site can see it.
If you really want to create a large epic adventure, this is also possible in Somnea. We're adding a feature called "doors". Doors create connections between levels, so with one door, you can link your level to any other. This way, you can create a real campaign the same way we are creating ours! You could then split the workload with your friends by designing a level each or create choice based gameplay with two or more doors in a single level.
We hope you will like these features, we can't wait to hear what you think about it and to see what you will create with the editor!
The IronHorse Factory Team