Riding the heat wave now affecting Europe, we're still gung-ho about Ale Abbey's development! This week we'd like to share some animation work on Sister Pinta, the latest design of the Abbey's advisor, and the Hammer & Ravens team in all its pixelated glory.
A quick reminder here that in our effort to keep you as close to the development cycle as possible, some of the information you read in Something's Brewing is WIP and could be subject to change.
Onwards to this week's review!


-- Sister Pinta gets more animation work!
With Raimo and Francisco on overdrive, character animation is always on point and definitely meme-worthy... Sister Pinta's animations now show off more of her archetype as protective and attentive to all things ale. Don't get fooled though, she does have a fun side!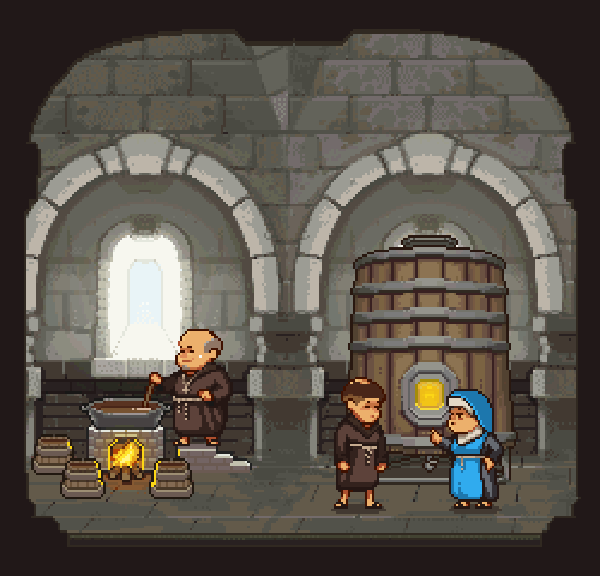 PSA, Emiliano's hairy beast of a dog, Olaf, will indeed be strolling around the Abbey, making sure to grace the Monks and Nuns with his majestic fluff.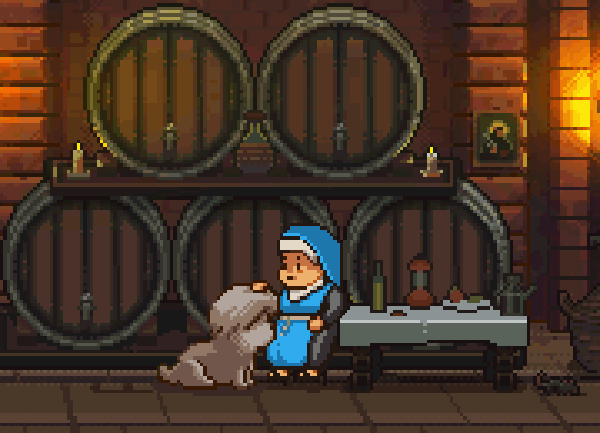 -- Designing Brother Maltus

Managing Ale Abbey without some sort of a helping hand around can be daunting at first. This is where Brother Maltus comes in. Brother Maltus is - in his own way - your Tropico's Penultimo or our Empires in Ruins' Turg. His tasks will be to assist and mentor you, remind you of that belated ale delivery, and overall safeguard the Abbey's reputation.

-- The team itself?!
You got it! While working on the studio's website we decided to give ourselves mugshots that are more fitting to Ale Abbey's theme. Not tipsy, but definitely pixelated and always charming! We'll be introducing ourselves in more detailed posts in the coming weeks ;)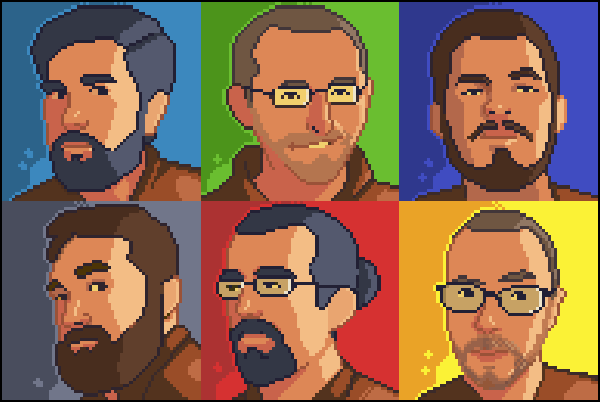 From left to right, top row: Francesco, Gavin, Raimo / bottom row: Yannis, Emiliano, Cingo
-- For our homebrew tip this week. Your beer and O2!
In short: CO2 = nice, O2 = not so nice.
Oxygen pretty much makes its way everywhere. Whether made in a facility or homebrewed, beer will come into contact with it at some point. To avoid letting your brew taste like wet cardboard, you have to at least try to minimize that contact.
Although not easy, you can accomplish that by paying some extra attention while brewing and bottling (huge culprit there). Make sure that you don't stir the mash/wort in a way that would allow air to go places. When you can siphon (don't pour!) the wort in between the containers that you use. When it's time to bottle, do so as slowly/calmly as possible to avoid splashing the wort in the bottles. All of these make the process a bit longer, but definitely keeps your beer safe from oxidation as well!

Thank you for your time and see you all next Friday!
-- Hammer & Ravens


Do you want to know more about Ale Abbey and chat with the team? Follow us on: