We got a few more interesting answers today on the brewing process as what level of control the player can expect to find within the confines of the Abbey. We also talk about how we chose the time period for Ale Abbey and what that means to you. For ye merry few interested in brewing, today we answer the coveted hops question; one that is known to ruin drinking buddy-ness and beer preferences alike!
As always, if there's something you feel we can explore further, let us know in the comments, or anywhere you can spot us in the wild. We got you covered, you can find links to our socials at the end of the post!


-- How realistic is the brewing process in Ale Abbey? Were there any parts in the brewing process that needed to be simplified?
The brewing process in Ale Abbey is technically faithful to the real deal, but quite simplified. Emiliano tried to keep the whole logic around brewing accurate, but also wanted the player to focus on its more entertaining parts (creating the recipe, choosing the ingredients, and tuning a few variables during the mashing process). The parts that were more related to numbers and chemistry were left out as they would have made Ale Abbey a far more technical game with probably very trivial loops for those looking to enjoy a tycoon game.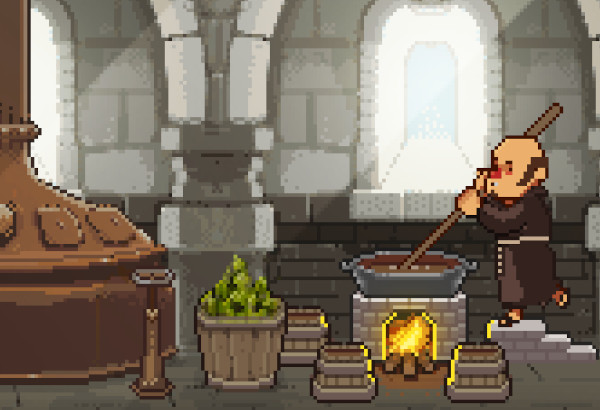 -- What is the level of interactivity in Ale Abbey? Will there be RPG elements in the game?
The level of interactivity is that of a classic tycoon, with quite some additional depth when it comes to creating recipes and brewing. The player's main medium of interaction with the Monastery is through UIs, but there is also a solid amount of it in world-space (for example when you are building or decorating rooms or buying tools) or for example when poking a drunken monk awake. There is some experience gain and leveling up for the monks, nuns, and the abbots, but we wouldn't really call them RPG elements, even though there are clearly some similarities.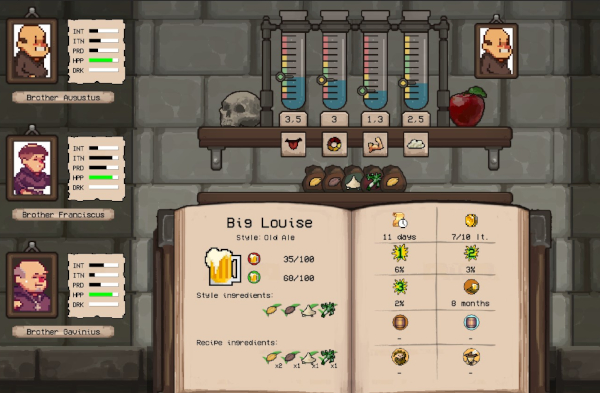 -- What was the reason to choose this time period for Ale Abbey's setting? What obstacles did that present?
When we first thought about covering the history of beer, we realized it would have been impossible as it spans from a few millennia BC and still evolves today. So we had to focus at a certain time. Emiliano was speaking with a friend about his idea of a brewery game and - thinking about Emiliano's passion for monastery brews - he asked: "why not monastery ales?" The idea coincided with Emiliano finishing Brew Like a Monk by Stan Hyeronimous and the rest is history!
As expected, this decision did bring some limitations in terms of gameplay. We felt Monastery-brewed ale could feel a tad monotonous to a non-brewer (even though there is a world of magnificent subtle details in that process too!). We thus decided to historically place the Abbey in a period where Monks were really active in brewing (starting at 1400 and spanning across 2 centuries), but decided to avoid being too realistic. A lot of cool tools and ale styles appeared after the 1700s, but this would take away a huge chunk of the chillaxing late-medieval/renaissance vibe of the game. So please... don't expect documentary-level historical representation!

-- How much hops is too much hops?
Emiliano is mostly into traditional beer styles, both as a brewer and as a drinker. For him it has become quite easy to perceive hops in a brew. He also loves to stick to the guidelines of the styles he brews, sometimes with a little dry hopping here and there, but always pretty light handed. He does find hops to be amazing, but only if perfectly balanced with the flavor profile that comes from the malts and yeasts used. Despite being on the traditional side, he loves a touch of Amarillo or Cascade when popping a bottle open, as long as it doesn't clash with the brew's core profile.
Yannis went through an IPA phase during which there was no such thing as too much hops... Thankfully he saw the light and went back to appreciating the flavors and aromas developed from the yeast and malts in a brew. He welcomes the bitterness, but appreciates it more when it brings some "extra" characteristics as well; probably through Tettnanger or Styrian which he also preferred when brewing saisons.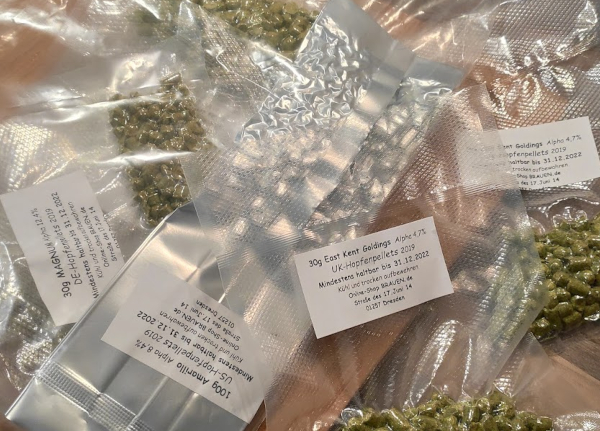 Thanks for your time and see you all next Friday!


-- Hammer & Ravens
You want to know more about Ale Abbey? Don't forget to follow us on: