Here is the status bar: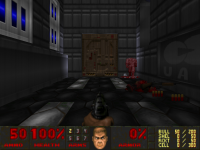 As for the download link, I'm waiting for DooM-ITA to finish map25 and he said it will (hopefully) be ready tomorrow. Expect it to be HUGE and also expect an epic boss fight against the Demolisher, the ruler of the desert world. Also Omegamax is working hard on map03 to make a good amount of progress to include a highly expanded version of map03 in the beta.
There is also a new map, map44, which is a tribute to dwango5. Also map21 has a new boss, so why not give some screenshots of the boss in action?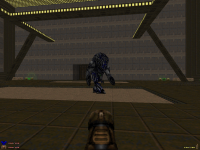 Yeah you guessed right... It's the Gargantua from Half-Life! Though here he is the ruler of the underwater world and will try to do anything to stop you. Killing him will free this world from the evil control of hell.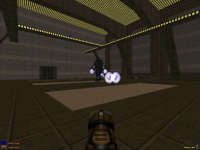 HEY! He wants to turn me into an ice statue D:<
Credits: Serious Cacodemon and DBThanatos. Also myself for making the ice attack. Also I put a computer map inside one of the rooms in the level. Some people said it was too hard to get out of that underwater maze so I hope the computer map will help. I also expanded map99 ad map12, map42 can now be accessed.