So in my opinion, the highlight of the week is definitely hats. I'm a sucker for cool hats in games -- but only if they're free. I refuse to pay real money for IAP hats and stuff. So, in Miner Threat, there are two point systems planned. (Hold on, it's not what you think.) One set of points is earned by killing enemies and getting high multipliers as described a few blogs ago; those points stay even after runs and are used to buy cool stuff like hats.
The next set of points are earned in game and will be your final score. Every enemy kill adds a point, and at the end of the run, the total value of all items in your inventory will be added to the points. No IAPs, no BS. You can only earn points through playing. But anyway, you wanna see them hats don't you? Right now there's only three, but I'll make at least 20. Send me your ideas for hats via email if you want!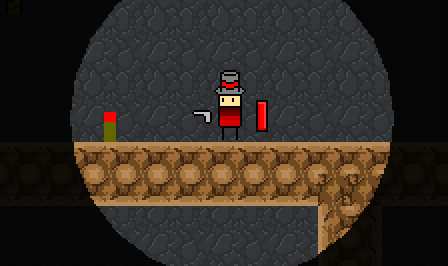 Pretty sweggy eh?
You may also notice two things: one, that torch looks like trash and needs to be redone, and two, the healthbars are now on the side. Also, enemies don't have healthbars anymore. You don't have magical powers that let you tell every things health, unfortunately.
Next up - BOMBS! Technically they were already in game in the form of a bazooka and grenade launcher, but now your character gets 1-2 bombs per level depending on weather or not there is a second player in game. As of right now, I forgot to make a display telling you if you have bombs left, but I'll get on that...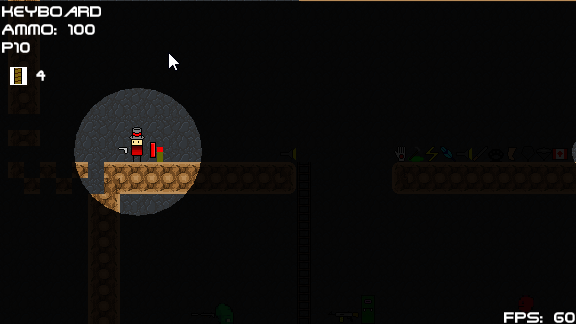 That might as well be the choppiest gif ever.
Anyway, a couple big things in combat happened. First off, you can melee attack now. No need for guns! (But don't try that.) Second, melee enemies don't just blindly pace back and fourth, they are easily picked off that way; no, now, when shot, they chase you. And last major change is you take damage from all enemies now, and there is a cooldown. For one second after your hit, you can't get hit again. This is mostly because you take a lot of damage from most attacks, and you'd get pummeled in a fire fight.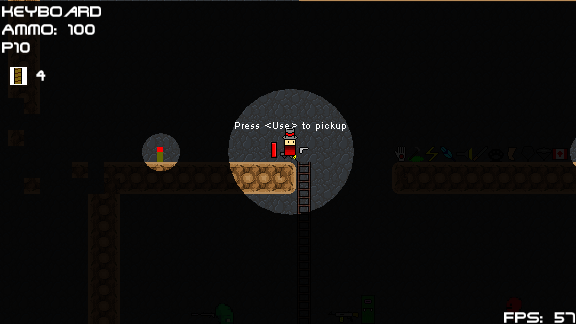 There was also a ton of little stuff done this week, but nothing you'd care about. So yeah, tune in next week for more!