There were some articles in the "Features" section of the ICFRA ModDB profile that were written before ICFRA PRC1 was released so I have updated them.
The most important one is the uninstalling article as it was showing an out of date file list and an out of date screenshot of the deactivation prompt so I fixed those.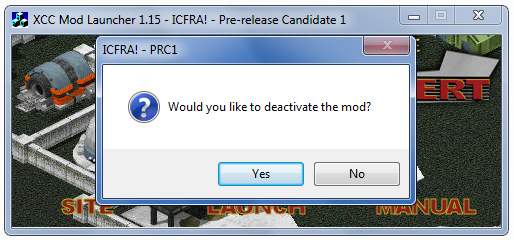 I also updated the about article and the version information article to include the information about PRC1.
Finally I've added a different format for the ICFRA PRC1 download, called PRC1z, which has the mod's files in a .zip file rather than using the .exe launcher created by XCC Mod Creator. If you already have the mod and it is working correctly you do not need to pay any attention to the new download, it's just for people who can't get the mod to run via the .exe version.
Please note that if you use the PRC1z version you are manually copying files into your game directory to install the mod and you will have to manually delete them to uninstall the mod. Instructions and a list of the mod's files are included in the download but you should probably backup your game install directory before installing the mod just to be safe. I am not responsible for you making a mess of your game directory!
The new format is here.
And of course the .exe launcher format is still available here.