Hello there, pizza Express lovers!
As some of you might have noticed, Black Shell Media has decided to support me as Pizza Express publisher in this adventure! Useless to say, it is very exciting to work with them, and I am flattered for the chance they have given me. We've been working hard to get Pizza Express greenlit (and we got to 82% to the top 100 so far!) and to make it an even better game, adding more options and tweaks. This is why we've decided to delay Pizza Express release a little. Sorry! Expect it around June!
That being said, it's time to show off some more progress about the game itself. After some complaints about Pizza Express resolution, I've added a handful of options that now allows players to set their screen however they want. Change the aspect ratio, set the resolution accordingly and you'll be playing Pizza Express in 1080p in no time!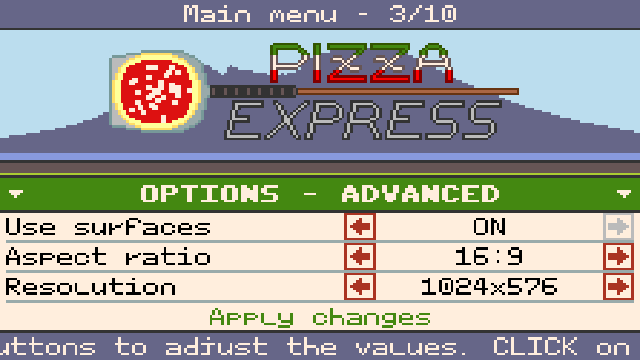 To suit as many screens as possible, Pizza Express supports five different aspect ratios in addition to its native one: 16:9, 16:10, 3:2, 4:3 and 5:4. The resolution width can be pushed as high as 2048 pixels, but if that's not enough for you, there are options to fill the screen entirely, either ignoring the selected aspect ratio or keeping it into account. You can say farewell to those ugly black rectangles in fullscreen!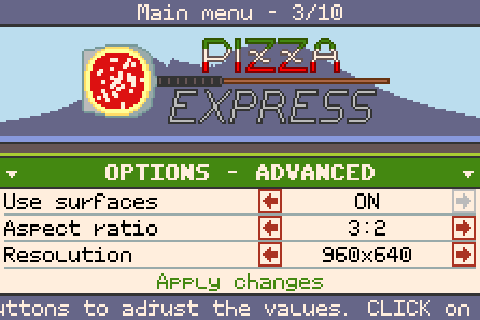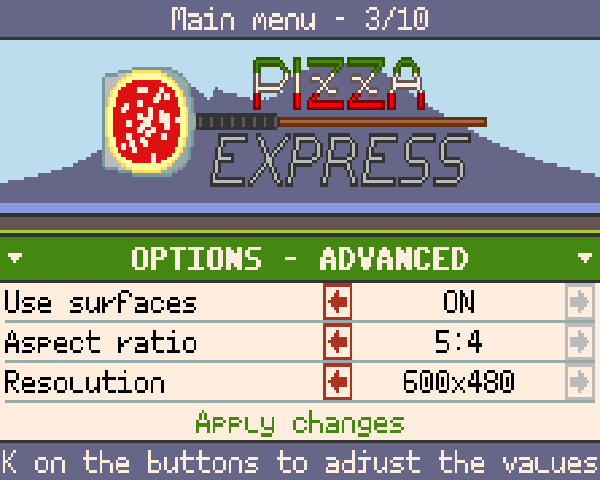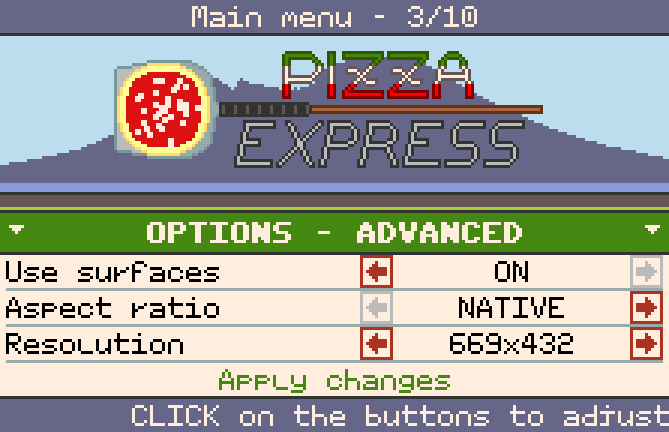 All this is possible through the use of surfaces. Nowadays, pretty much any computer supports them, but in the unlikely case you're stuck on a machine from the Stone Age (or you are experiencing some kind of problem with surfaces), fear not. You'll be able to turn them off and still enjoy Pizza Express luciousness, although your resolution will be fixed to Pizza Express native 223x144. Yeah, that's small, but you'll always be able to resize the game window through isotropic scaling. No need for a magnifying glass, I promise!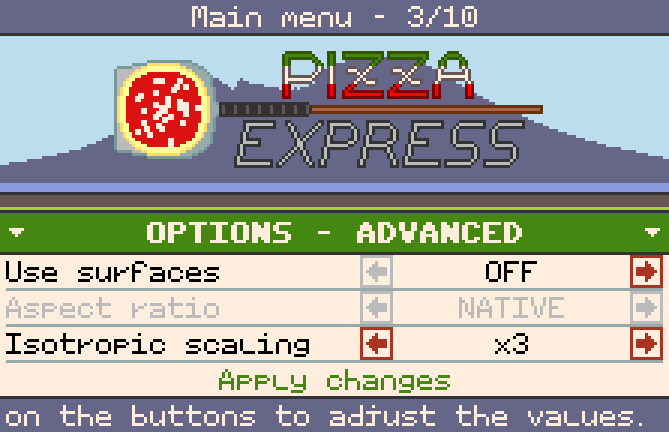 I've also implemented a new transition system, which makes them a lot smoother than before. This also solved a problem which affected old machines, where transitions took twice as much time to complete. So that's good! A number of small bugs have been addressed and a few typos fixed (surely a lot more to go, though!). The game manuals are also ready and that means pretty much everything is done.
Once again, sorry for the small delay, but we want to give you the best product we possibly can. So see you soon, and have a great day!
Also, don't forget to give Pizza Express a thumbs up on Steam Greenlight, follow us on Twitter @OnniInteractive and @BlackShellGames and give the demo a go!