Things continue apace! Here is the final vid of the animations - these need to be integrated, but I think we have some very good stuff here:

Videos & Audio - Frozen Synapse Game - Mod DB
And here's the new look for the menus - coming along nicely...still need to figure out the background, though...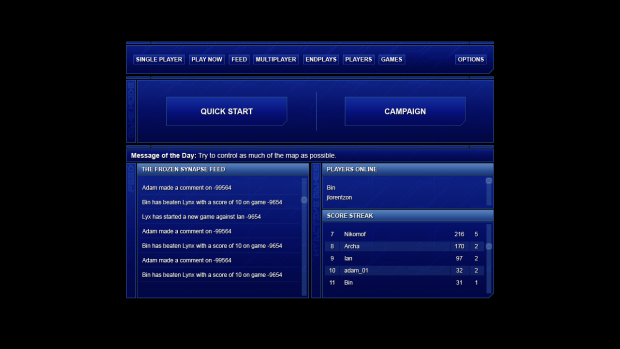 Marketing stuff now: we just confirmed with Eurogamer that they're going to send someone over to visit the office very soon. This is extremely exciting as they are 1.) a MEGA huge site and 2.) seem genuinely excited to come and see what's going on.
Despite that, we still really need your help with getting the word out about the game, so I've decided to introduce a bit of an incentive. Everyone who signs up to our mailing list now gets a free bundle of music from the game: these are the two concept tracks, Schism (which I've already released on ModDB) and a mix of a new track called The Plan, which will be up on ModDB soon.
We really need people to sign up on there so please mention that to everyone you know who likes games - they'll now get free stuff! I hope to add to the free stuff as soon as possible, so that we have a really good incentive to sign up.
Also on that front, the game now has a its own Facebook page! Go there and join if you like such things - it's already grown from a massive 9 people to a staggering 15 (EDIT: Since time of writing, this has grown to 108 thanks to our amazing Facebook posse!)! I want to beat Ubisoft's RUSE, which has 3k fans on there - see if we can destroy them with the power of social networking.
Ian is away on a contract project this week but when he gets back we'll be hitting the art hard and fast with our Big Hammer of Hard Work and Justice, trying to get things into a better shape.
For those bazillion of you who have asked me about when the game will be available for pre-order, I can tell you that we're currently certain that we'll be offering:
1.) A pre-order which gives you immediate beta access
2.) Some cool in-game stuff for pre-orderites only
This is not an official announcement, but we're hoping to release that in mid-April. We really want to make sure that people getting the beta can get a lot of out of it / play properly / not experience really annoying bugs - that's why we've waited so long to do this. I want the beta version to give you a STRONG flavour of what the finished game will be like, not just a suggestion - that's the aim anyway.
A big factor in price / exactly we decide to go ahead with this will be the number of people we have signed up to our list, so please spread the word.
Cheers!