I'd like to take a quick moment to remind everyone that we are currently participating in the new website 8-Bit Funding, in order to attain some funds to speed up the development process. If you are interested in what we are doing and believe we have some potential, any small contribution would be helpful and would be put to good use! ....artwork!
Things have been going rather steadily, but still a little slow with the Project: Moldering team. School is still in session, but will be over sometime in the near future. This means faster development! James should be finishing up his degree and will be pumping code into the computer via some sort of cranial unit. In the meantime, I thought I'd supply you with some goodies to keep your eyes busy.
I'd like to start everyone off with a video we did a while back while the engine was being built. It is showing off the particle engine that James created. We got up to around 5000 particles without it effecting frame rates, on a lower end laptop. We have a lot of ideas jumping around from the testing...
(We apologize for the low quality video, it was done at an early stage and we were experimenting with screen capture software at the time. All future videos should be much better.)
We've also had a little bit of music that we rather enjoy, and has amazing potential to reach the final version, take a look.
This was also done a little while back, by Bobby Tew, on what is apparently a little Facebook doodle pad, I thought it was rather interesting.... and I'm not sure whats going on with that spaceship.
These are some artworks drawn on a....table, by some friends. Silly and childish....Yay!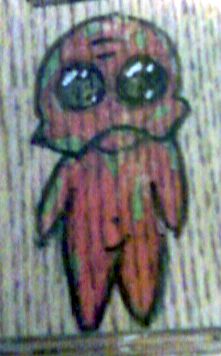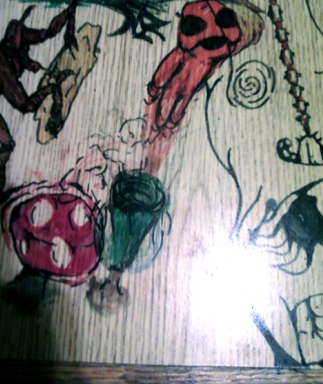 Thanks again everyone for stopping by, and if you are looking for more frequent updates as to what we are doing check us out on our development blog!
-Zach-