One of ModDB's very few PSP projects is finally nearing Beta. Formerly called Halo: Solitude, this Quake-Z mod has stepped into the light with a fully Standalone PSP/PC project called Solitude.
To date, there has only been 5 PSP projects ever to enter onto ModDB. With 8 months of development, Solitude has done an impressive amount of work re-creating a Halo-style world on the Playstation Portable system. With an internal alpha already being played, and an announced (but sadly delayed) public Alpha, Team Flaming Ice is quickly making a name for themselves among the PSP side of things. Not to mention winning the top 100 in the Mod of the Year competition. With a story expanding upon Halo CE's story and a multiplayer largely based on Halo 1 with influences from the other 2 and the books, Solitude is already nice looking. By the looks of it, easy to play and pick up. With Bot-support and Wi-fi multiplayer, its something any PSP enthusiast should pick-up. We joined SamUK, lead developer of Solitude, for an interview/preview/sneak peek of this up-coming PSP project.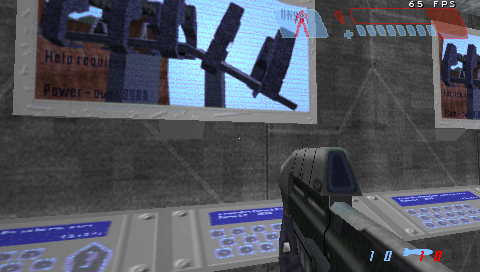 "I've been modding for about a year and a half, I started around January 08. The same time I was introduced to the Quake engine."
Sam (SamUK), Game Director of Flaming Ice Games
The PSP is a great machine, with tons of power. I was interested in the quake engine at the time and I heard the quake engine was ported to the PSP, a few months later a mod called Kurok was release that showed the true potential of the quake engine on the PSP." Says Sam. For those who don't know, Kurok is a Turok style Co-op project also based off of the Quake engine. A very successful and inspirational project, it even released an SDK.
"With the lack of shooters on the PSP, I decide it would be best as its a great learning curve, anybody interested to start modding should give Quake a try." A very difficult part of PSP development, as most can imagine, is the limitations. Clocking in with a 333MHz processor, its not an overly powerful machine. The PSP has limitations, and limitations means everything has to be optimised to the maximum. We use the same tools other modders that work on the PC use, 3d Studio Max, Photoshop. Its easy to get something working, buts its hard to get something to work right."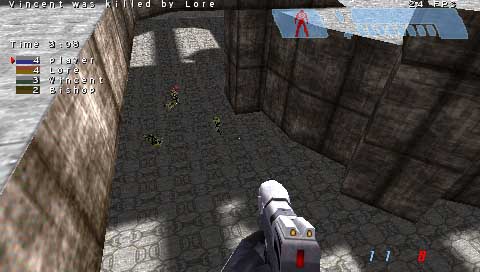 "One of the hardest tasks was making such a fast paced game like Quake to feel like Halo"
SamUK
While Solitude certainly looks like Halo, it was more difficult to make it 'play' like Halo. "One of the hardest tasks was making such a fast paced game like Quake to feel like Halo was a challenge, but I think we got it. We are still tweaking the movement, but its pretty much done. The art is coming along well, and the weapons work exactly like there supposed to. I'd say we have succeeded so far." An even larger aspect of the Halo universe is the story style. Spanning across several games and books, the plot line can be very deep at times and adding more into it can be a very big problem.
"From the start the aim was to make a complete singleplayer story that is factually accurate, the story writers have read at least two of the Halo novels to make sure any events we add to the story won't be contradicting anything in the Haloverse (Halo's universe). I get asked a lot ''Will the flood be in the game, I can almost guarantee it." The game is set before and after the Halo 1 timeline, the weapons are mostly from Halo 1 but the SMG (our only Halo 2 weapon) was being used at the time, but Master Chief didn't use it. Things mentioned in the books more then likely will be seen in Solitude. As for mutiplayer, you can expect it to feel like Halo CE's. The weapon balance will be as accurate as Halo CE's and most of the Halo modes will be in, with some of our own spins. "Like new game types, and objectives. We have even discussed a horde (Gears of War 2) type mode." Says Sam.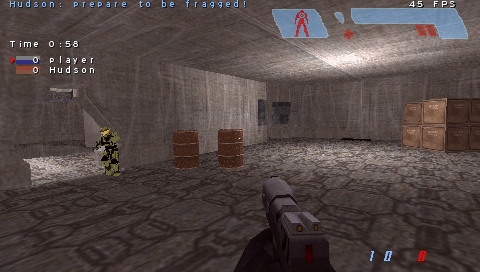 "I get asked a lot 'Will the flood be in the game', I can almost guarantee it."
SamUK
Among the challenges of Development 'crunch' time, polishing models, and the mapper physically breaking his arm, was very much the legal issues. "The biggest challenge has been to make sure that Solitude is 100% legal, a lot of people seem to think that solitude is illegal project due to using Bungie's universe. Halo solitude was illegal, but Solitude isn't." Halo mods are not something new. It's always a shame when a good mod gets CnDed (Cease and Desist) and is put to waste. Flaming Ice has been hoping they've cleared up all legal issues, and definitely hope they don't run into any more.
Sadly, more problems arise other than legal ones. Being based on another project, ideas usually tend to conflict, as team members see things from different point of views. Especially on a project like Halo. "Recruiting has been difficult, and a few times it looked like the team was about to fall to pieces due to conflicting beliefs." PSPs have been scaring off modders for quite sometime now. With high optimising, little to no info, and the fact not many actually own a PSP have scared off many modders. With projects like Kurok and soon to be Solitude, maybe modders will have a hope in the PSP after all.
"Hand held development is very rare and its a shame. Solitude will be supporting user created content by releasing the best user made maps with future versions of solitude."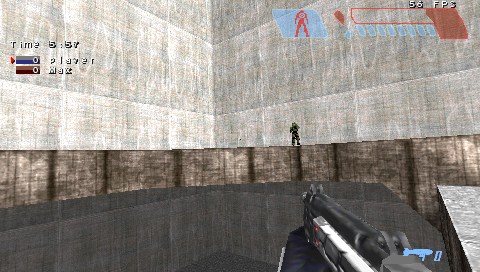 ''Scifiknux, our mapper, broke his arm while snowboarding. He somehow finished the map and is working on another two maps while recovering.That is what I call dedication.''
SamUK
"Right now our only plan is to get the beta out the door, we were aiming for march 31st but it looks like we might not reach that date. We have a few ideas that would make multiplayer more interested such as playing as a Brute and maybe releasing the singleplayer story as chapters." Although Flaming Ice is aiming for the March 31st update, there is high doubts it will be hit as they have much polishing and more work to do. Especially with some arm-breaking unexpected delays. ''Scifiknux, our mapper, broke his arm while snowboarding. He somehow finished the map and is working on another two maps while recovering. That is what I call dedication.'' Although the 31st might be missed, Flaming Ice still has high hopes. "It's looking like it could be a week or two late, but only time can tell. The delays reason is due to our engine, we are adding a lot to add new features such as detailed texture support, Half-Life 1 map format, a new UI and much more." Says Sam.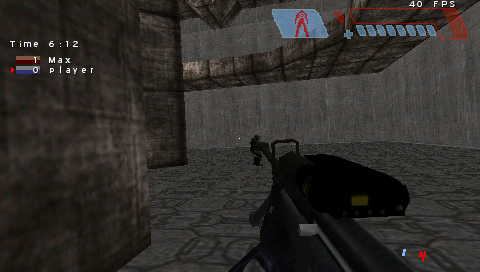 "It's looking like [The Alpha] could be a week or two late, but only time can tell"
SamUK
We thank Flaming Ice for the interview. As it turns out, they are in fact very busy developing. Fortunately we were able to nab this exclusive Alpha bot testing video. Its all being worked on, and it is an early video, but we hope you enjoy.
If you like what you see, we encourage you to Track the Mod to be updated on future media.