Today, before the holiday break begins in ernest, I decided to update the game a little to address some issues I would have with it if I was a player. What sort of things? Well, there are 3 main issues that I saw that I wanted to try and fix with this soft update.

Issue 1: I can barely see the cells in the video! And thus, I thought, if I have trouble pointing them out, other people will. But, I added the multicoloured grid to dissolve some of the stark, white background. Apparently, this looked good at first, then I looked again. So I thought, okay, let's try adding a soft grey/blue behind them again. That'll take care of the white and the visibility. So I did that as can be seen here (i think anyways):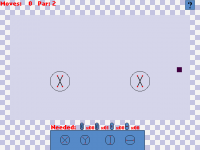 Issue 2: Gee, neat story, and the red text works for the interface, but. I really don't like the red text. My eyes get lost and it's kinda hard to focus. So I decided to change it back to black. I thuoght, the help boxes are in black, so why not right? I'm thinking of changine the menu text to black as well. It's just easier to read: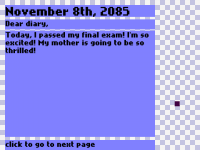 Issue 3: I don't know how to play or what's going on! Even after reading the tutorial! Help! This is big. If people don't understand your game, they won't play, heck, they won't give it a second chance. So, since after you read the tutorial, it goes to it's own level. Which, doesn't penalize the players score of the Grad Student stage. So I thought, why not tell them? It'll let people play around and hopefully learn how to play the game: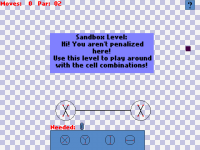 And that's that! Hopefully these small changes will help people a bit more! As always, let me know what you think! And tweet your scores!
Download link: Indiedb.com