With the release of Starcraft 2 heading our way later this year, it seems gamers get to rejoice once again. A new real time strategy game worth hours and hours of gameplay and a multiplayer that puts most other games to shame – what more can we possibly ask for? Well, we can tell you for certain that modders will not be coming up short with this game either.
The big question, that has been nagging at a lot of dedicated mappers and modders for months already, is the concern over what exactly will be possible with the new world editor? The original Warcraft 3 editor was great and all. It did have some amazing products to show off (DotA, Footman Frenzy, Tower Defense, etc)...but it still wasn't all that. We're happy to reveal that the new editor coming with Starcraft 2 will be highly improved and the first signs and previews we've seen, suggest that it is practically without limits.
Galaxy To The Rescue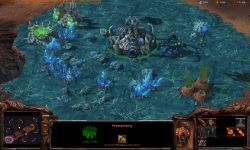 The team at EnterStarCraft.co.uk has been wondering what precisely is possible with this new editor. Well, the exact specifics are still uncertain, as you might imagine. We won't know for sure until the game, in its final release format, is installed on our hard-drives. But not to worry, we have some insights for you already. Without the need of coding or additional programming, entire units can be changed and modified. New models can be integrated into the game without breaking a sweat and Blizzard has also promised features within the editor that they did not even use for Starcraft 2. So in other words, you can be sure that there will be a lot to do and more importantly, it will be so engaging that everyone will get a chance to do it. Here we list just a fraction of what our research has revealed.
Linked Multiplayer Maps
Mappers and modders will be able to create linked multiplayer maps. This means that entire campaigns can be put together for the online content. So, if you, like many other gamers were hoping for a Starcraft 2 coop, it will now be possible through custom content.
Modify Existing Units, Or Create Brand-Spanking New Ones
Is there a unit in SC2 which you think could do with a case of pimpin'? Do it in the editor and create a Zerg that can shoot lasers from its spikes and reflect damage from all sides, while dancing the night away to a catchy salsa beat - Although we'd ask you not to, if that kind of stuff really rattles your chains, rest assured, because, yup, you can do it – and no coding required!
RPG, Anyone?
Fancy turning your Starcraft 2 experience into a third-person action shooter? Consider it done. Although scripting will be required, you will be able to utilise the Starcraft 2 engine to develop your own RPG, both in top-down perspective and over-the-shoulder style third-person. As you can imagine, the possibilities here are endless.
Going Old School
Why not go old school and recreate Space Invaders as a Starcraft 2 mod. Actually, that's going a step too far...nah, just kidding. You can do that, too – although coding will be required.
The Tools To Play God
Here's a short breakdown of what we know will be available with the new Starcraft 2 Galaxy Editor.
New water tools
New Cliff types
New lighting tools
Make Campaigns
Alpha Texture bleeding
Hard tiles including road etc
Terrain foliage
Make your Own Cinematic
Multi-user Environment
FPS 3rd Person Shooter and RPG mods
Loading and Saving Data for Multiplayer
Join & Exit Custom Games on the go, in real time
Going To The Market
Blizzard's Rob Pardo announced that the new Battle.net will come with a market place, which will allow, and in fact encourage, modders to design and, more importantly sell premium content maps and mods. While free maps and mods will of course be available also, this surely creates an entirely new platform for modders and mappers. Although the new battle.net will be launched with the release of Starcraft 2, it seems we will have to wait a little longer for the marketplace to come our way, as Rob Pardo stated he did not intend on delaying the game any further.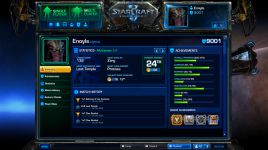 The marketplace will make it incredibly easy for modders to share their creations with the rest of the community. Gamers will be able to download a custom map without having to join a game first. Stuck for choice in maps? Not to worry, the marketplace not only gives you the option to download custom maps currently played, you will have every single piece of custom content ever uploaded to battle.net right at your fingertips. What about the different map versions for the same mod? Also not a problem, you will be able to easily browse through every release corresponding to a mod or mod type.
Two Cups of Your Premium Content, Please
Blizzard hopes that this move of improving accessibility to custom content will encourage modders to create more of their own assets, as was the case in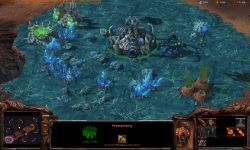 Warcraft 3 with mods such as Defence of the Ancients (DotA). An obvious benefit of the premium content would be the chance to overcome the gaps between official Blizzard content in the form of new games or Starcraft 2 expansions.
Similar to Steam's achievement system, the most popular high quality custom content is likely to be hooked with achievements and matchmaking features, which will be added separately by none other than Blizzard themselves. Doesn't it give you a warm fuzzy feeling inside, knowing that the big guys will play your mods and maps, too?
So who gets to decide what is premium content and what isn't, I here you ask? The answer is quite simple, really. You. See? I told you the answer was simple! You, the modder get to decide when and if you want to turn your custom made map or mod into premium content. Although Blizzard will take a percentage of the income from that content, rest assured that you will most definitely receive your fair share.
The whole idea with this new editor is that Blizzard wants to make it as easy, engaging and interesting as possible for everyone who will play the game. They openly state they want to compete with Steam and attract their talented modders. And if Blizzard's track record for getting things right with games is anything to go by. Valve and Steam have reason to be worried.
Finally, we have a short video for you showcasing the early stages of a new Tower Defense mod designed for Starcraft 2 by SC2Mapster, using the beta of SC2 and the editor. Original version by Vjeux and new waves were added by veselu. Enjoy
---
Related Links
Enterstarcraft.co.uk
modDB Profile
Forums
Starcraft2.com