Update: For those not in the know, our indie game Smuggle Truck was denied on the App Store so we created an alternate game with the same gameplay called Snuggle Truck, which features smuggling wild animals into a zoo. For more information, please visit Snuggletruck.com
--
Owlchemy Labs here with a Monday morning update sure to brighten your day. Today we are announcing full native support for the Snuggle Truck level editor on the iPhone, iPhone 4, and iPod Touch!
A month or so back, we mentioned our plans to bring our fully-featured level editor to both the iPad and Desktop versions of Snuggle Truck. We had initially excluded iPhone and iPod Touch from this list due to the small screen size and inability to properly hit the buttons on screen. There was just so little space available, it seemed imposible to cram all of the functionality of the editor into a screen that is less than 3″ wide.
In fact, this is the same level editor used by the developers and level designers to create the actual levels seen in the game.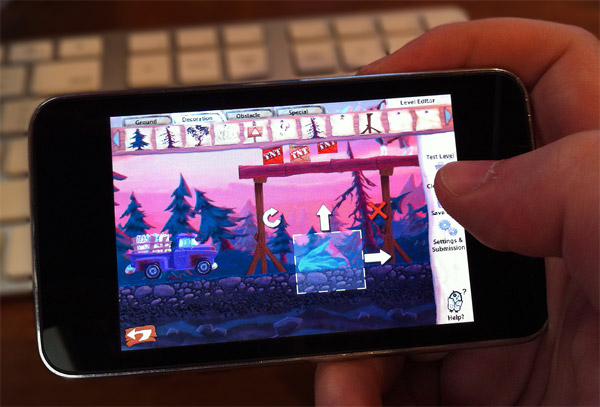 It's.. It's.. ALIVE!
Now we somehow have it running on all devices, including the pictured iPod Touch 2nd gen, which runs it pretty well considering it has a processor roughly equivalent to a toaster.
We heard the cry of our players and really wanted to deliver the same experience across all platforms, so we re-designed how the user interacts with the editor. It was a BEAR to get working *and* usable on such a small screen. Now scaling, moving, and rotating happen in distinct touch zones instead of the previous method employed in the desktop client that worked by detecting which selected edge you were dragging.
We're doing our v1.5 private beta test right now, so expect this baby to be submitted to the App Store within a week or so.

Edit: Check out Brett Nolan's experiences with the v1.5 beta at Appaddict.net