V 0.2 часть6/V 0.2 part 6
EN The track is completely ready, I'm talking about asphalt. On the top right, you need to correct the elevation differences. Make another start line. The trajectory of the road is indicated in red, these marks are for me, you will not see this in the game.
РУ Трасса полностью готова, я про асфальтное покрытие. Сверху справа необходимо подправить перепады высот. Сделать еще одну полосу старта. Красным цветом обозначается траектория дороги, эти метки для меня, в игре вы этого не увидите.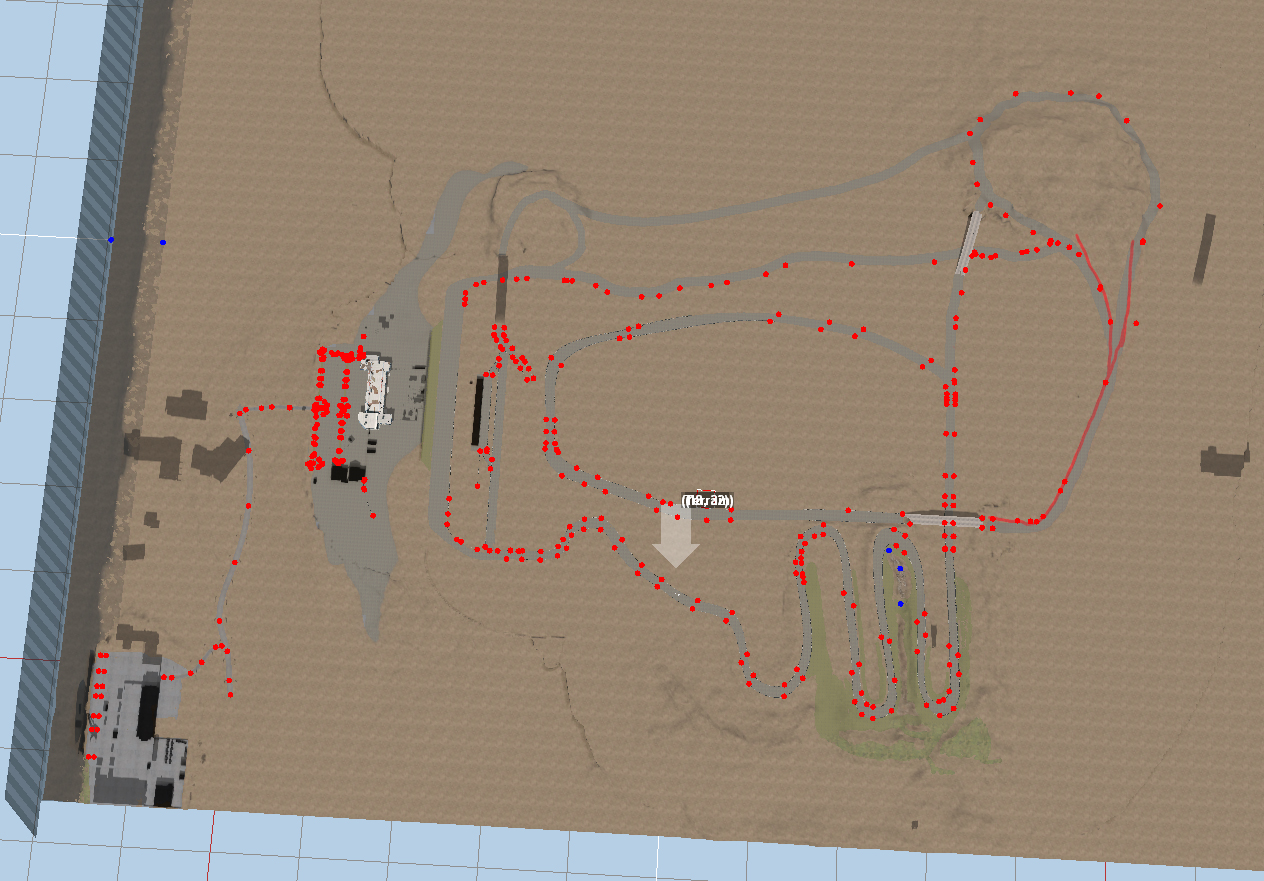 V 0.2 часть5/V 0.2 part 5
EN Made a section of the track with turns and a long straight
РУ Сделан участок трассы с поворотами и длинной прямой
V 0.2 часть4/V 0.2 part 4
EN The landscape on the serpentine has been completely edited, and the area near the track has also been changed, + the trajectory of the race track is marked. Screenshot A shows the view from SnowrunnerEditor, it will also look like in the game. Screenshot B shows the work done using the height filter
РУ Ландшафт на серпантине полностью отредактирован, а также подверглась изменению территория рядом с треком, + размечена траектория гоночной трассы.На скриншоте A изображен вид из SnowrunnerEditor, также будет выглядеть и в игре.На скриншоте B с помощью фильтра высот показана проведённая работа
V 0.2 часть3/V 0.2 part 3
EN Screenshot A shows the editing of the trace configuration. On straight lines and turns, the smoothness of the asphalt surface is recreated. Screenshot B in part 3, using the height filter, shows the work done to level the landscape.
РУ На скриншоте A изображено редактирование конфигурации трасса. На прямых и поворотах воссоздана плавность асфальтного покрытия. На скриншоте B в части 3 с помощью фильтра высот показана проведённая работа по выравниванию ландшафта.
V 0.2 часть 2/V 0.2 part 2
EN Screenshot A shows the landscape change. Screenshot B shows terrain with height filter.
РУ На скриншоте A изображено изменение ландшафта. На скриншоте B показан ландшафт с фильтром высот
V 0.2 часть 1/V 0.2 part 1
EN With the help of two overlays defined the boundaries of the route (serpatine)
РУ С помощью двух оверлеев определил границы трассы (серпантин)
V 0.2
---
v.01
EN-Progress: Partially worked out section of the racing track
РУ-Прогресс: частично проработан участок гоночного трека