More Gameplay
In Snot, there are collectibles everywhere. Throughout the game, the player will constantly be picking up and using shells and energy symbols, as well as health points and other power-ups.


Using Snot's primary close-ranged attack, the player can break item-containers, such as crates, mushrooms or pumpkins (depending on the level), which usually dispense these collectibles.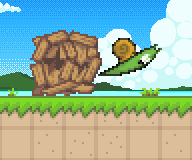 The shells are the most common. These serve as Snot's secondary offensive ability as well as for a wide range of other purposes. Use them by throwing them through the air at enemies.


By applying energy symbols to Snot's body or to his shells, you will be able to perform many new attacks, such as shoot lasers and fireballs, or run faster and freeze bodies of water.
Prepare yourself for a tough boss fight by customising your character with the power-ups you need to succeed! Many enemies and bosses can only be defeated with a particular kind of attack.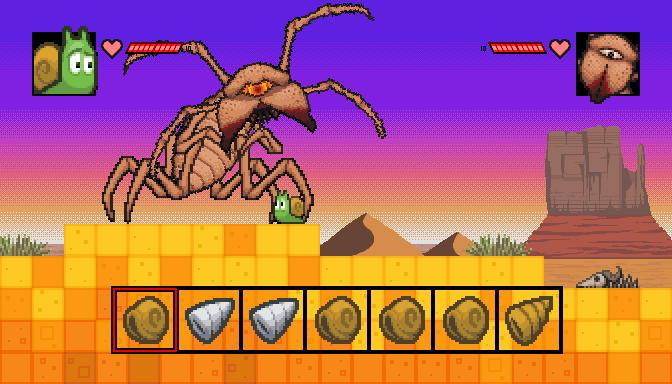 There are also some much rarer collectibles found in the game. These tend to expand the maximum amount of a particular collectible that Snot can carry at a time. For example, the HP-Up allows Snot to takes more hits before he is killed. Similar upgrades can also be found for each energy symbol.


However, many of these rarer upgrades will be tricky to find. Even though they may hiding in plain sight in levels, the player must solve obscure puzzles to obtain them. Many other upgrades will be waiting at the end of side-quests.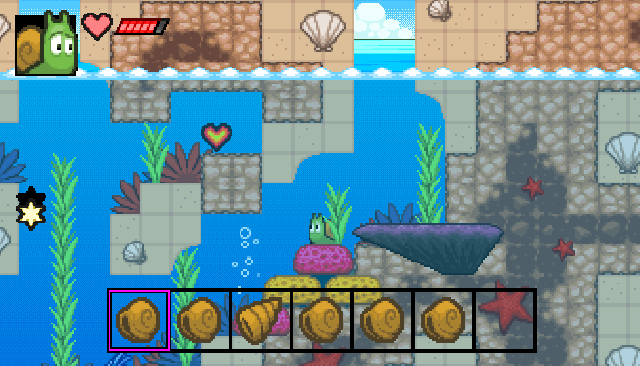 Exploring, collecting power-ups, fighting bosses and solving puzzles in 8 well-designed worlds.
This is what Snot is all about