1.1.8 is out, containing several bug fixes. If you've had trouble getting the patched game to run, try this version.

Apart from the bug fixes the changes are:
Fix to make vsync (and possibly brightness) work on Windows 10
'Direct load' mode, which is a bit cleaner and hopefully more reliable
You can now have multiple quick saves. An additional option to quick load the most recent save, quick or not
Some troubleshooting options have been added to the tweaker
The 'mouse improvements' tweak is now 'no rotation blur'
Select which FM loader to use from the tweaker
All binaries linked statically, to reduce installation trouble
Moving texture files around when configuring the Collective Texture Pack is now more robust
New Thief 3 Gold Inn mission, without tutorial stuff and with the new exit mentioned above
The Windows 10 fix was apparently found by UCyborg on the Vogons forum. The fix overwrites code in d3d8.dll to disable the pseudo-fullscreen mode imposed by Win10. That's somewhat fragile and may break with a Windows update - a couple of checks were added to detect that.
This version was supposed to have an installation option to make the Steam overlay work (copied from the Visible Upgrade for DX2) but Steam explicitly disables the overlay for T3, so it wouldn't work. As a work-around to get the overlay working, add the patched game as a non-Steam game. (Browse to the Steam install and select the Thief3.exe file.)
The direct load mode (enabled by default) launches a second instance of Thief3.exe directly when loading a save or new level, instead of going through an external launcher exe. It looked like this could make loading faster - in practice there's no difference. But since synchronization in this mode is much simpler it may fix the cases that some have reported, of the game hanging on relaunch. (Although virus checkers are also a suspect there.)
In the direct load mode the desktop title bar is hidden for a few seconds around the time of the relaunch, making the transition a bit cleaner too.
The "numbered quick saves" option makes the game cycle through e.g. 5 active quick saves, "Quick Save 1" through "Quick Save 5", the oldest of which will be overwritten next time (and quick load will of course load the newest). There's also a setting for retaining every quick save...
Thief 3 has always had a rep for frequent quick save corruption. Not sure about "frequent", but it does happen. So players relying heavily on quick saves are encouraged to use this feature.
The "quick load most recent save" feature will just cause the quick load function to load the latest hard save if it's newer than the most recent quick save - so you don't have to remember if you did a hard save or not.
Both these settings are on a new Save Game page in the tweaker. A couple of existing save game related options were moved there too, and must be re-enabled.
The tweaker's Advanced page was renamed Troubleshooting, and now exposes some options that may help in certain special situations: Attempted loading of damaged saves, ReShade/dgVoodoo work-around etc. The direct load mode can also be disabled here.
The "mouse improvements" tweak has been reduced to a "no rotation blur" tweak. The other part of the original tweak, zeroing MouseLagThreshold, is now always active (with an option to disable).
The tweaker's fan mission loader page now allows you to select which FM loader DLL to use. The bundled default is FMSel, but a recent alternative is NewDarkLoader, which aims to combine the best from FMSel and the classic DarkLoader for Thief 1-2.
The bundled C++ runtime in previous versions were causing installation trouble for some users, so from now on binaries are statically linked. That also makes things easier for Wine (Linux/Mac) users.
Last but not least, Beleg Cúthalion has provided an updated version of the Inn mission for Thief 3 Gold. This is not the final Inn map, but an intermediate version, which has had all tutorial stuff removed except on Easy - and there's a new exit: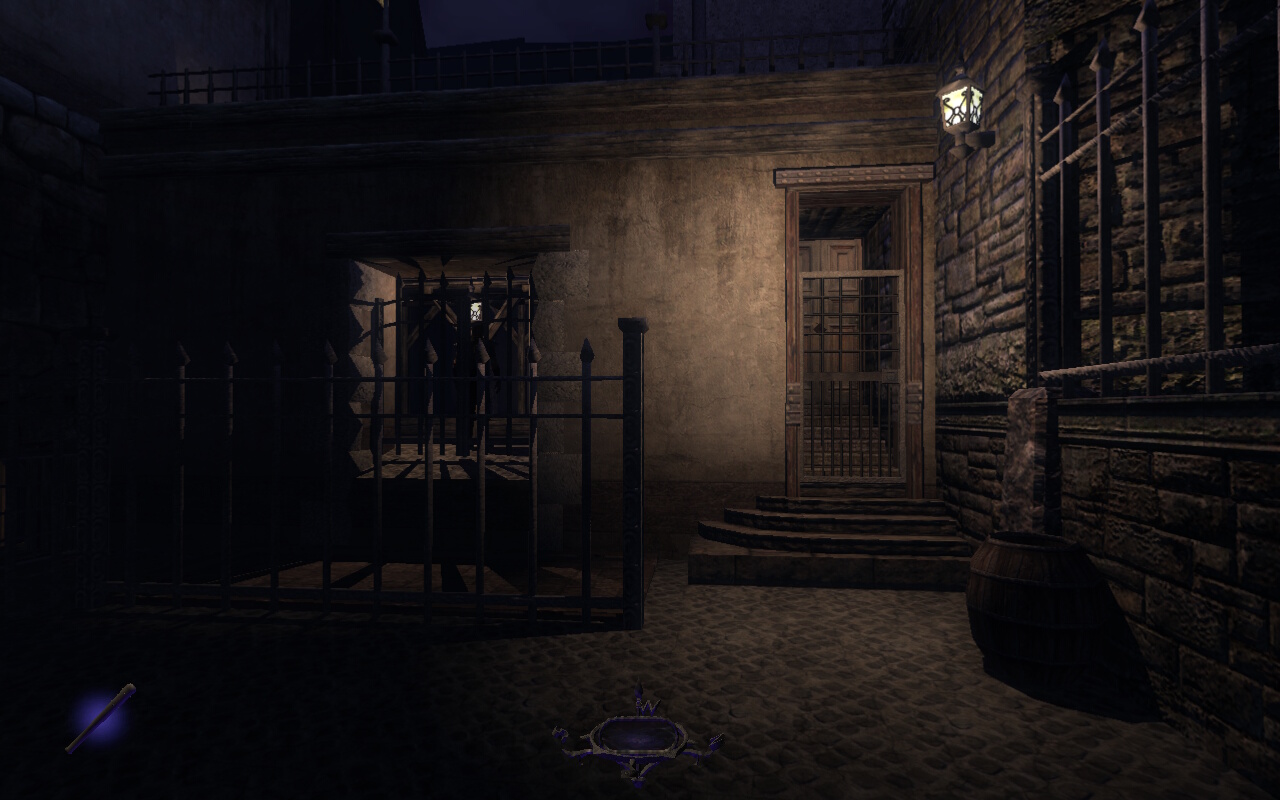 Because of this the T3 Gold version has been bumped to 1.3, which means old savegames will not be visible after installation. Use the button on the tweaker's FM page to temporarily revert to version 1.2, e.g. to finish a play-through.