Hello again!
Today's post is all about...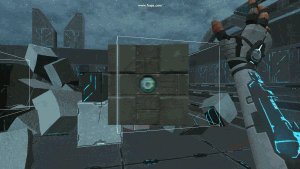 This is from a very early prototype of the smash mechanic using Apex destruction physics. In Eden Star, most things will have some level of destructibility. Everything you build can also be broken down and absorbed with your RMD.
And it's not all boxes and big chunks! Picture this:
You're being harassed by three drones, closing in on you from three sides. You have no weapons beside your RMD, there's nothing to throw at them, and harsh language doesn't work either.
So what do you do? Well, why not grab a drone by its face, throw it at another one to stun them both, and while they're picking themselves up, you hurl the other one through a barricade.
When drones A and B come back for vengence, you power-blast drone A with your RMD, knocking it backwards into a cliff face, creating a shower of shards of rock, then why not materialise an electric pole out of the ground and make a drone shish-kebab.
Nice and satisfying.
There will be various material types in the world with different strengths and breaking behaviours, and most will be collectable resources too, allowing you to deposit them in your Eden Kit in exchange for sweet, sweet credits!
You could go through the whole game without smashing a thing, if you're afraid of destroying the pretty scenery, but the smaller the pieces, the more easily absorbed they are, and the best way to break something is to SMASH IT.
More soon!