This past week SMAR•CADE: Anarchy Edition was integrated into the free indie gaming service GameJolt.
What does this mean for users? It gives you the option to use fun community features like online achievement tracking and experience points that you earn from playing all kinds of different games.
These new features are all made possible by GameJolt. They provide an innovative service for indie game developers with their free Steamworks-style community API that allow for these cross-game achievements and EXP points.
SMAR•CADE: Anarchy Edition is in its first stage of integrating with the GameJolt community. As of today you will notice a Log-in with GameJolt icon on the Collect Rewards screen. You can log-in here to sync your SMAR•CADE achievements with your GameJolt profile and collect your EXP.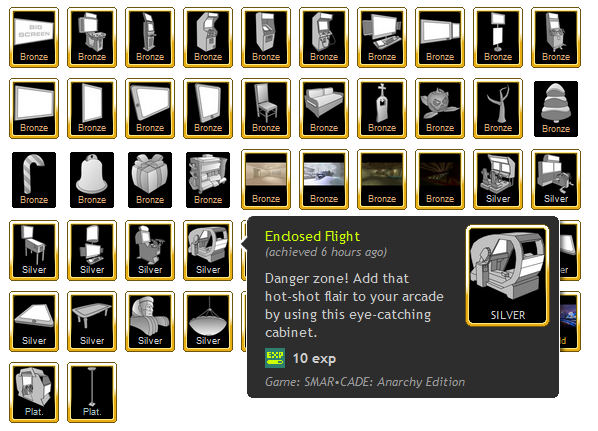 SMAR•CADE will make full use of the new community features. It already has 52 trophies to collect and 420 EXP points to offer. In addition, NEW trophies, EXP points, and even in-game rewards are added every month! So there's always something new in SMAR•CADE whether it's the game you're playing or the cabinet you're playing it on.


Community achievements and EXP points aren't the ONLY innovative services that GameJolt provides. They have a living database with THOUSANDS of 100% FREE indie games that are just waiting to get played. But GameJolt takes it a step further and provides a database API so indie developers, like myself, can tap into the power of their free games catalog and provider direct access to users.
That means that even if you don't have any games, simply installing Anarchy Arcade will put thousands of FREE games right at your finger tips that you can instantly drop right into your virtual 3D worlds. These games aren't just for looks; you can download, install, and play them just by walking up to their cabinet and clicking it.


These games come from a wide variety of genres and are provided straight from the developers to you. Play the Featured or Top Rated games if you want some quick fun. Or dig through the massive database to find hidden gems; its all up to you. More games are added every day!


With an all-new batch of Greenlight games rolled onto Steam yesterday in combination with a surge in YouTube videos and Facebook posts popping up concerning Anarchy Arcade, we have now reached the 50% mark on the path to the Top 100. Thanks for all the support!
Posting your screenshots and uploading your videos to your friends goes a long way in getting the word out about Anarchy Arcade. The people who would enjoy it can't enjoy it if they can't see it. So lets continue moving up the Greenlight rankings and get Valve to take notice so this can get on Steam!