Hello dear community, today we have a small but nice update! Hm, but why a small one? That's because we have something very big for you within the next weeks (no, not a release ;) )!
First off all i wanna introduce 2 new members:
- Commander Cody: our new event coder, he will help Hugussi with the events and especially design and code the tactical missions
- John Bello: our new 2D artist, apart from some minor things like user avatars and icons for the mod, he will create some special stuff that you get to see in the next big update
Now I have the brand new, almost finished GC map Stargate Universe for you. 80 planets and all important, well known from the series galaxies, saturated with events for all 3 playable races will guarantee fun for hours!
As we want to improve the experience and the Stargate feeling, we have created some new planets, which everybody shall recognize directly. Today, we have 2 of them for you:
- The Tobin system with the mine field, fully animated
- Delmak and Netu, the home planet of Sokar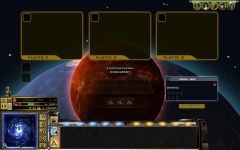 Last but not least, the already known Ori station. This time fully textured and armed! It's a true fortress!
That's it already for today, but don't be said, the next news will be all the better! ;)
Have fun with it!