Hello and welcome back to another update of Forgotten Hope! Today's update, while small, contains a favorite of all those who have ever witnessed its awesome power in Forgotten Hope 1.
For this week's update, we have the Willys MB Calliope to show off, otherwise known as the "Rocket Willy"!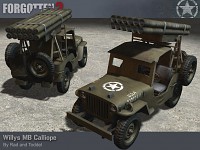 The Willys MB was a small, 4x4 vehicle manufactured from 1941 to 1945, with over 360,000 produced. The Willys MB Calliope was a standard jeep modified by a 7th Army Ordnance officer to carry 12 steel, 4.5 inch rocket tubes. The launchers were aimed by adjusting the elevation using a crank on the side of the vehicle and aligning it with aiming stakes. When it was time to fire the rockets, the soldier closed the protective ports in the front windshield, sat in the driver's position, and used in an electric contact to to launch the rockets. The Willys MB Calliope was made by Rad and finished by Toddel.
That's all for this week, but be sure to come back next time for another update. Until then, feel free to visit our IRC channel and our public forums.