A little bit about SGC

SGC is looking to further establish itself as a serious games conference in the Adriatic region. The program features the main conference with an indie expo, creating great opportunities and a place to network. The event focuses on a number of activities that together represent a process of video game development. Technical development, design, marketing, art and PR experts hold lectures and multiple Slovenian and foreign indie studios present their products to the visitors.
Floatlands showcase

This time last year was our first time presenting a short demo of Floatlands at SGC. We had just started our project, but surprisingly received an award for best game there. That motivated us even more and this year we returned to the conference with our revamped and improved demo version of Floatlands.
During the event we met some familiar faces and received positive feedback from them, when they compared the game to the last year's version. For the demo we set up an island and the main objective was completing quests from a quest giver. With these quests we wanted players to experience some important features – resource gathering, crafting, build mode, electricity, flying to other islands with the Buzzard helicopter.
Most of the players followed the quest giver's narrative and gradually advanced to the most fun elements. One thing we noticed was, once players started using build mode or electricity, they immediately became more involved in the game and asked if we also included other exciting features.
There were a few who jumped on the heli straight away and started exploring different islands. That's another thing about Floatlands which the players will like, that it offers you these various playing styles.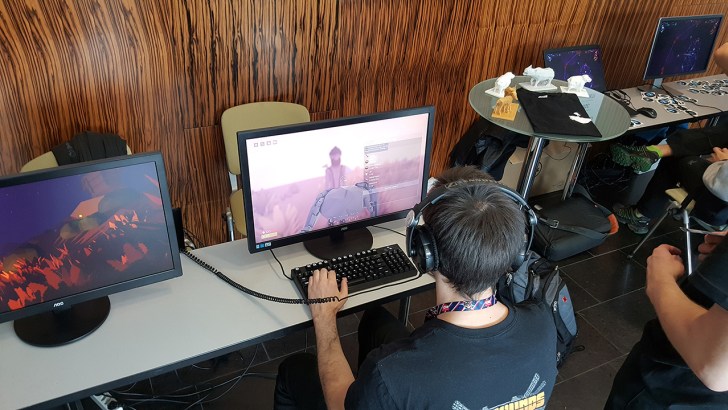 Besides showcasing the game, we also brought with us various prizes (3D print models, T-shirts, posters, stickers) for the raffle, which we organized at our booth. In exchange we gathered lots of vaulable contacts and we thank all of you who visited our booth and chatted with us. We had a great time! Now it's time we return to work and keep improving the game. We will have a few important announcements soon, so keep following us on social media!
Team Floatlands