The next update in our upcoming title Slave RPG is out now and includes numerous new difficulty options and a reworked saving/loading system.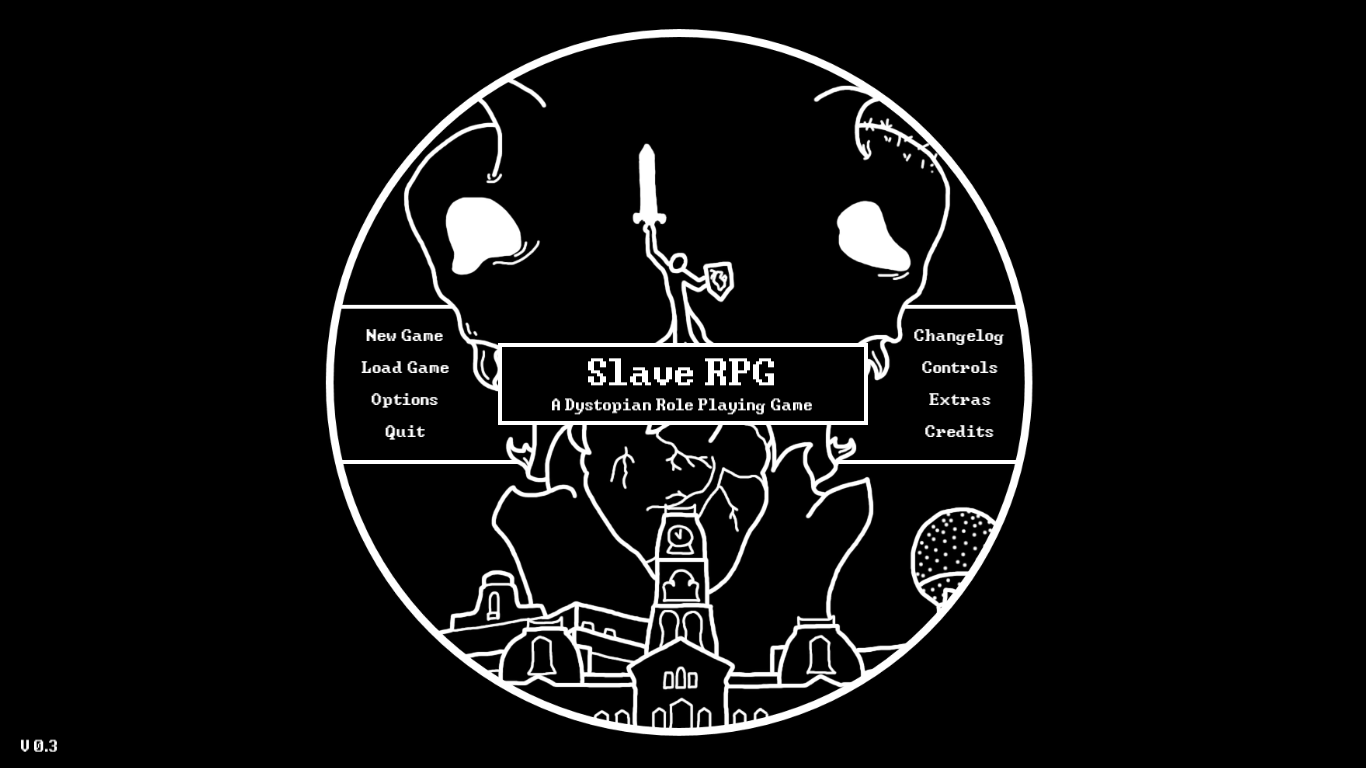 Main Changes:
added a new saving/loading system based on save slots
added a variety of new difficulty options
added two new worlds that are randomly chosen from when starting a new game
updated all NPCs to now use NavMeshAgents
reworked the item spawn system and rates
Minor Changes:
various bug fixes
smaller UI tweaks
added several new items
started adding animations
updated the player and companion menus
changed firearms to now have magazines and require reloading
New Saving/Loading
We knew that the old saving/loading system was a chore to get around and had quite a few problems, so we reworked the entire thing to now be based off of a total of 20 dedicated save slots that can be easily sorted through and managed with the new saving/loading menu. In addition to this, the player can also now delete saves from the loading menu, as well as load previous saves from the pause menu.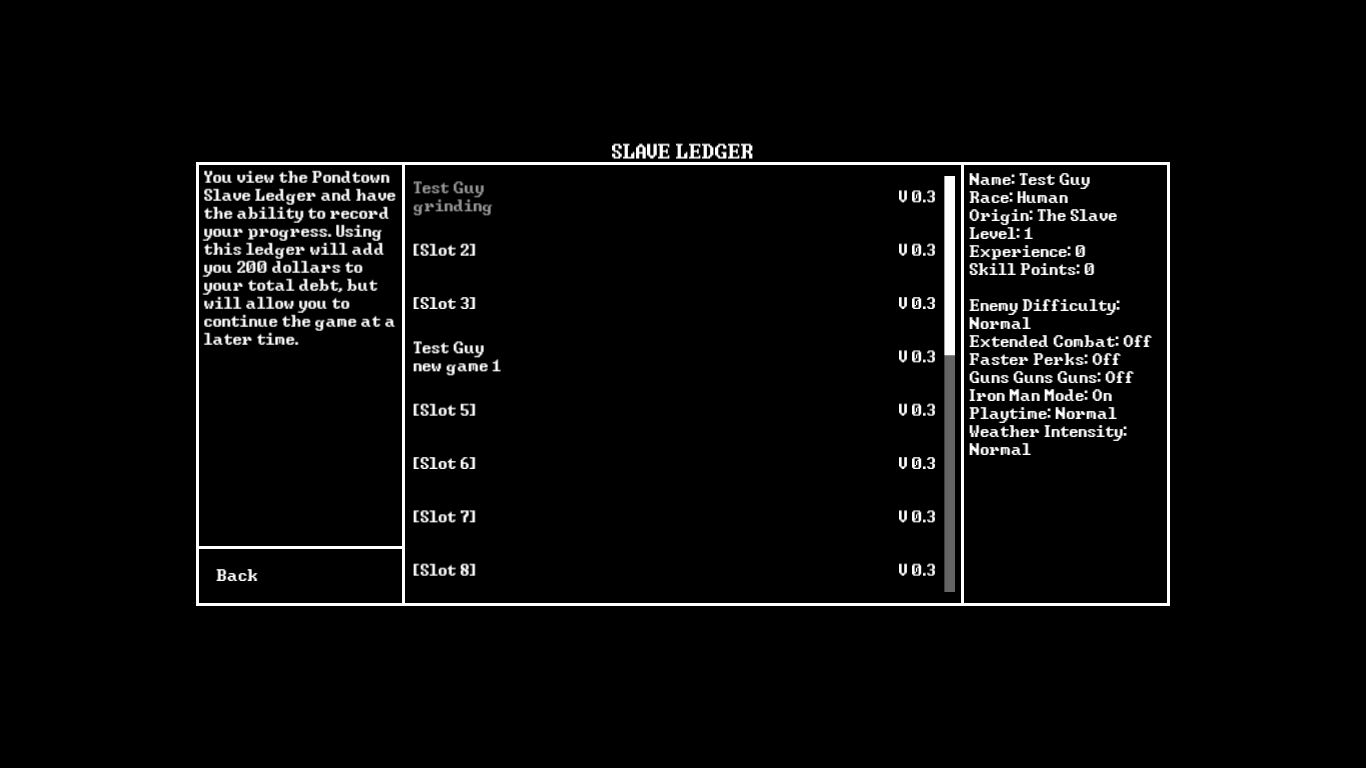 New Difficulty Options
It's difficult to have an RPG without a lot of variety, and that variety can come from many aspects of the game's design, so we decided that we would like to see and make a RPG that includes numerous difficulty options, so that is what we did! In this update we added four more difficulty options for the player to choose from. Assist mode helps the player by making them feel good about choosing assist mode, extended combat aims to make combat more challenging by having random events happen with the player's actions, faster perks allows for the player to be able to choose any perk directly from level 1, and guns guns guns replaces all of the weapons in the game with firearms while increasing the amount of ammunition the player can carry.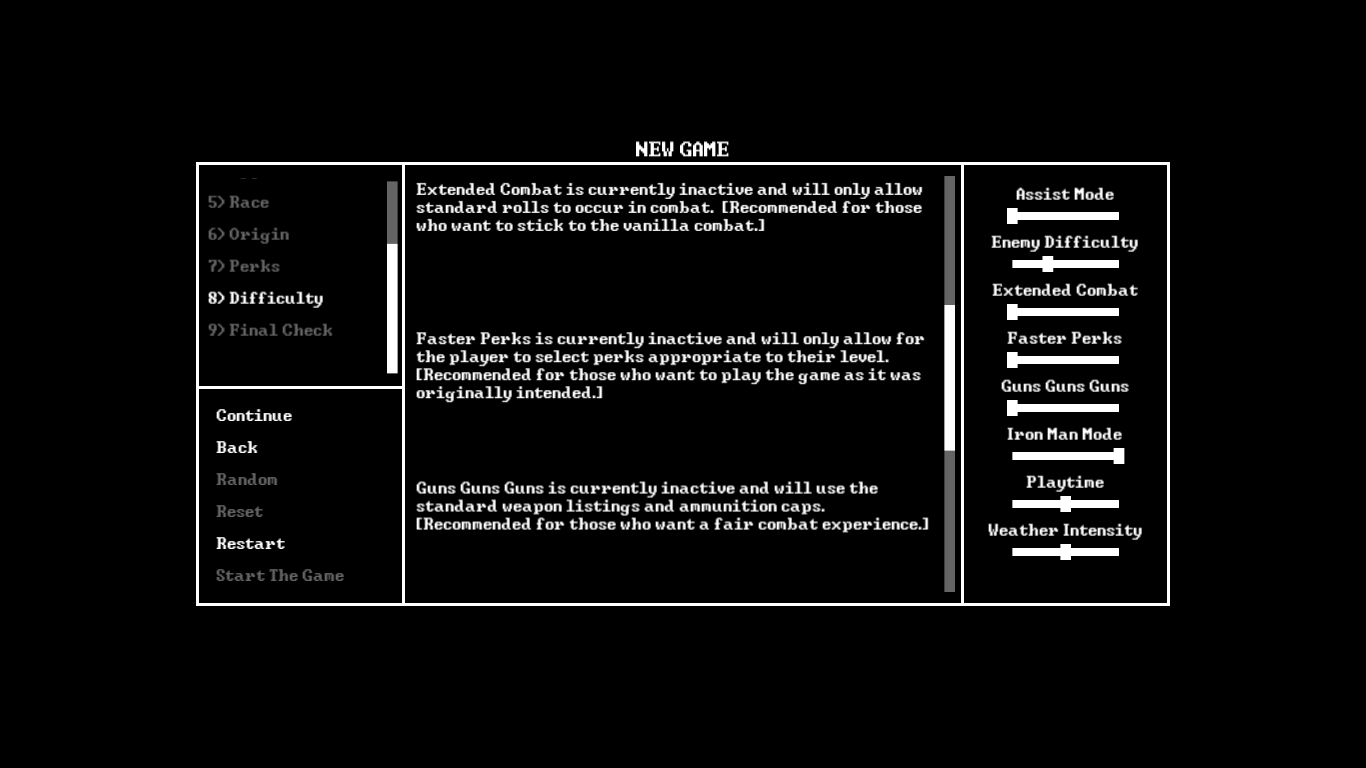 New Worlds
To bank off of that last bit where we talked about variety, we also wanted the game's world to have a bit of randomness to it as well, but we didn't want to go out of our way to make another randomly generated map, so instead we began adding new maps that are randomly chosen when starting a new game. These new maps still have the same border as the old map (for now), as well as having the same location placements, but feature new obstacle and scenery placements.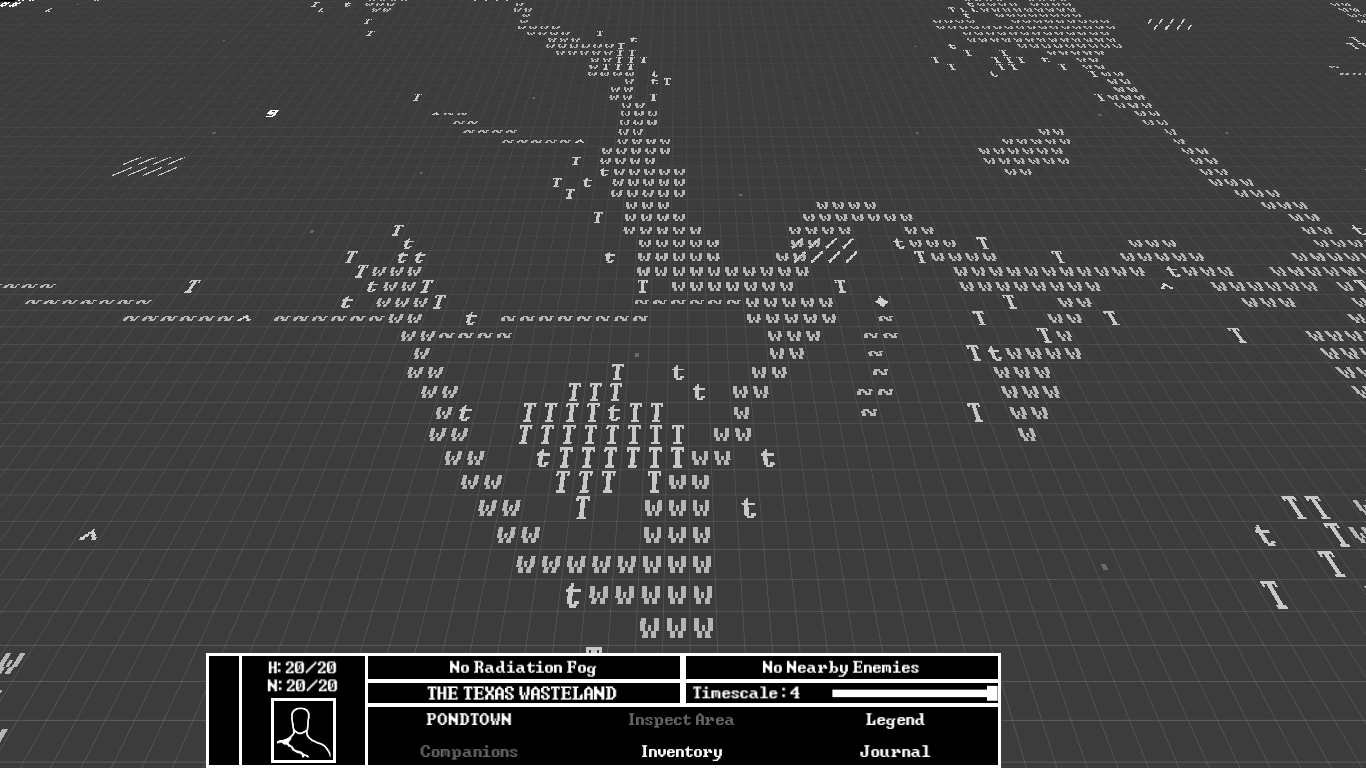 New NPC Movement & Speech System
We knew that it was a bit jarring that the player and enemies could move so freely but the NPCs were limited to their preset animations, well with this update those pesky animations are no more! We have made all NPCs now work off of the same NavMeshAgent system that the enemies use to help add a bit of liveliness to things, and in addition to that the speech system received an update to help accommodate for being able to speak to multiple NPCs at once.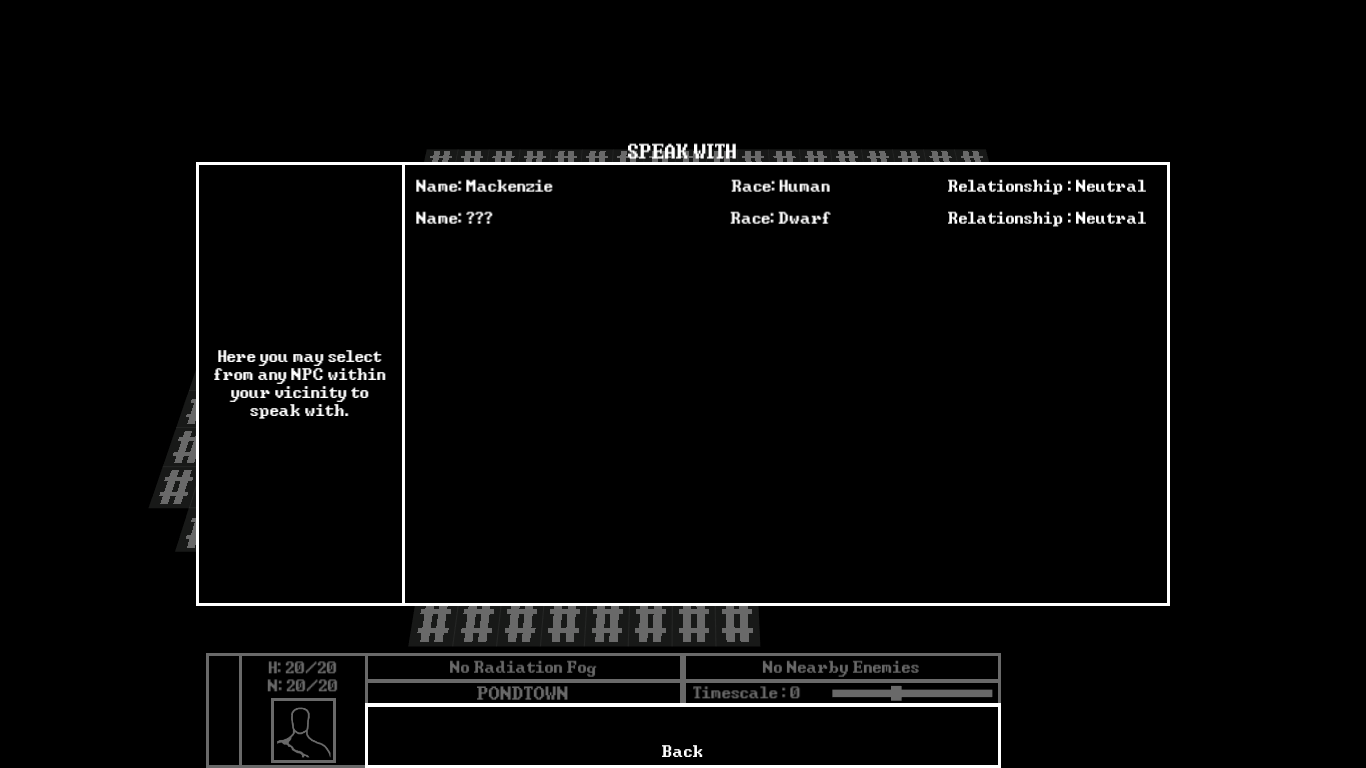 New Item Spawn Rates
In a bit of the behind the scenes of the update, and something that might not be directly noticeable, the item spawn rate and shop randomizing system has been completely reworked. This means that items that are marked as being rare will spawn less, as well as allowing us to setup world based items that are independent of the shop in the future.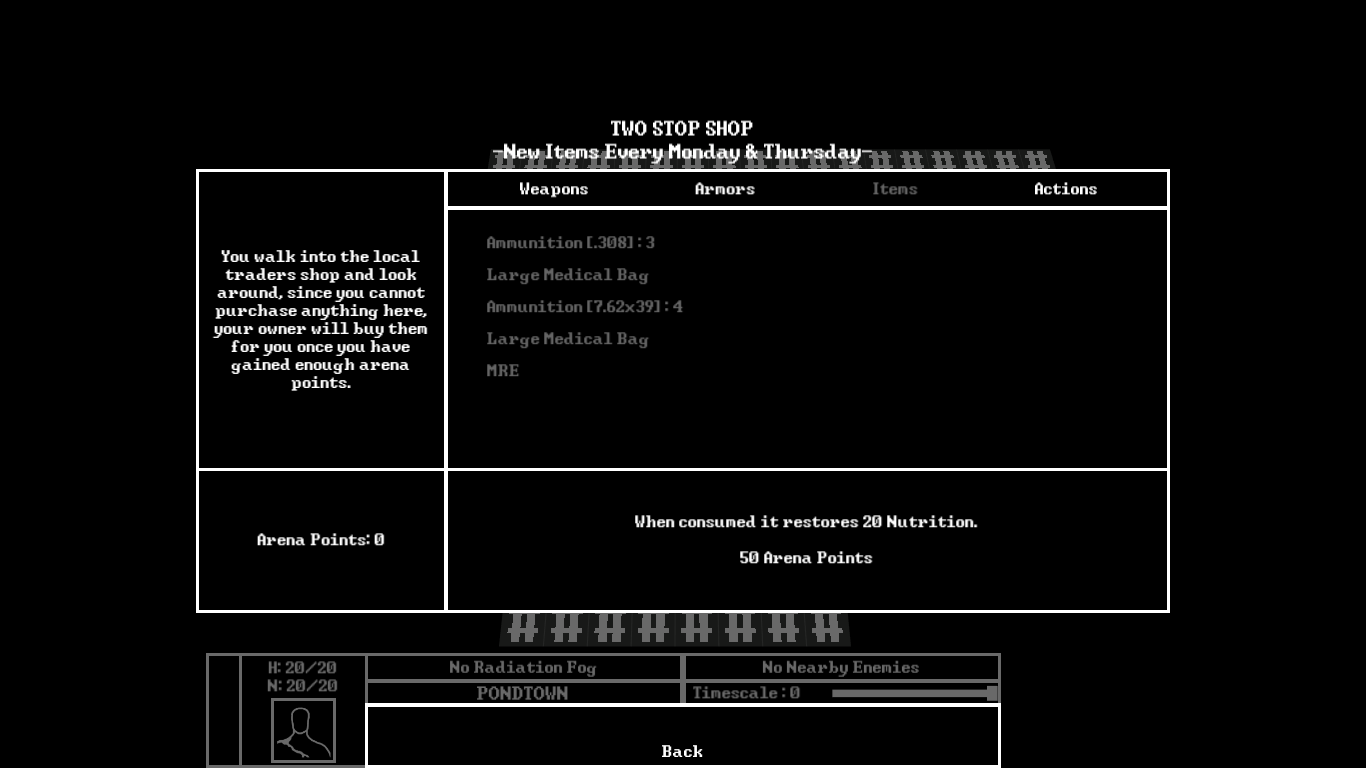 We would like to thank everyone for their support so far and hope you all are having a good start to 2018.