The next update in our upcoming title Slave RPG is out now and includes a variety of changes and overhauls.

Main Changes:
continued to overhaul most menus in the game with a new menu system that should be easier to navigate and overall more conformative
finished adding support for the towns of Graves and The Arena by adding in NPCs and various locations to both places
completely overhauled the way that firearms function by making them range-less, but at the cost of not being able to preform critical attacks with them and having them use ammunition
completely overhauled the way the inventory system works by making it uniform to the new menu systems as well as changing the total amount of items the player can hold by scaling to the player strength

Minor Changes:
various bug fixes
more options
New Menus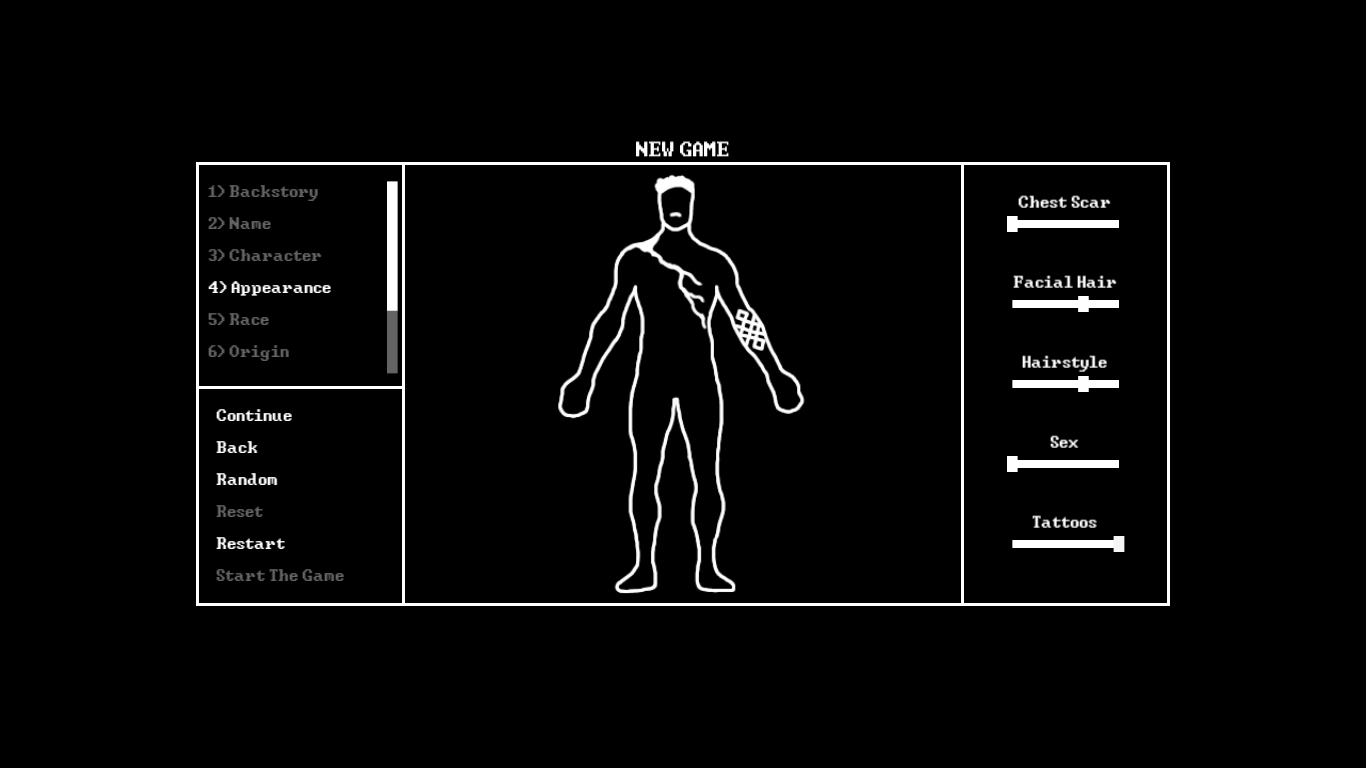 The majority of the menus in the game now will work off of the rectangular interface as seen above. The only known instances that still need to be changed are: the endings, the slave shop, and the dialogue system. Other than those few areas, the rest of the game should feel much smoother to navigate around and should be less confusing overall.
Finished New Areas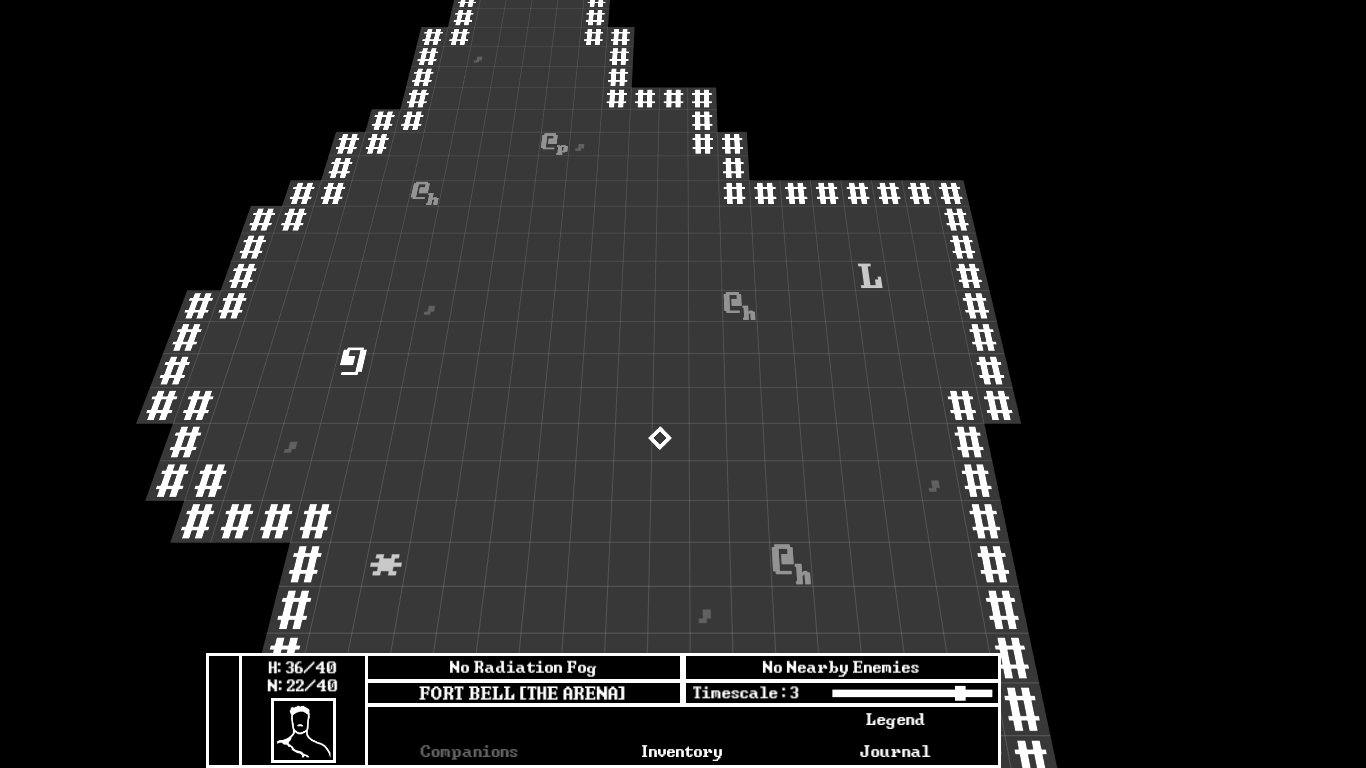 In the last update we added two new areas to the map, Graves and The Arena. With this update we have finished adding in these places full with new NPCs, shops, landmarks, and more.
New Inventory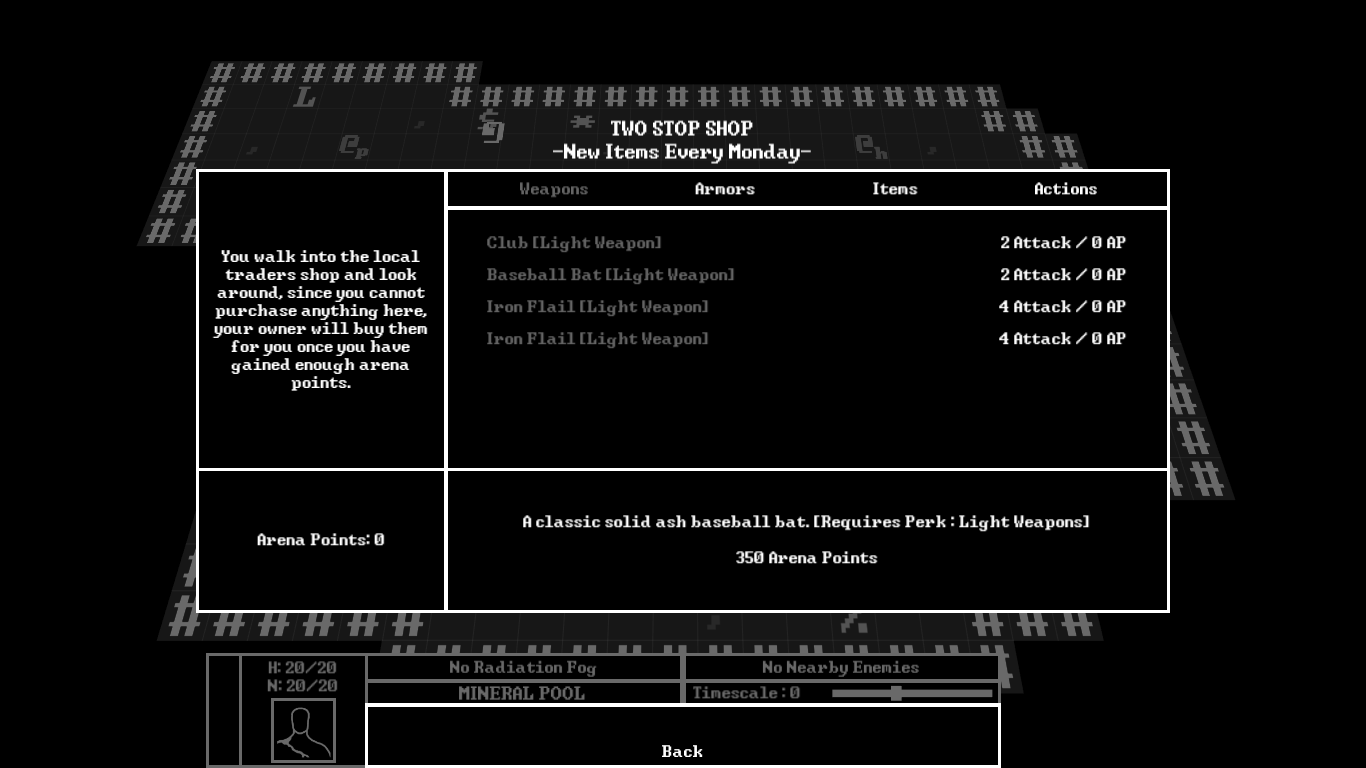 With all of the other menu updates, the player screen, journal, and inventory have all received similar updates. Now all three match the uniformity of the other menus, as well as some additional changes. The inventory item slots will now scale with the players Strength core stat and will cap at ten slots for both weapons and armors. This scale will also effect the total amount of new ammunition types the player can hold that have been added to the game to accommodate the recent change in firearms.
More Options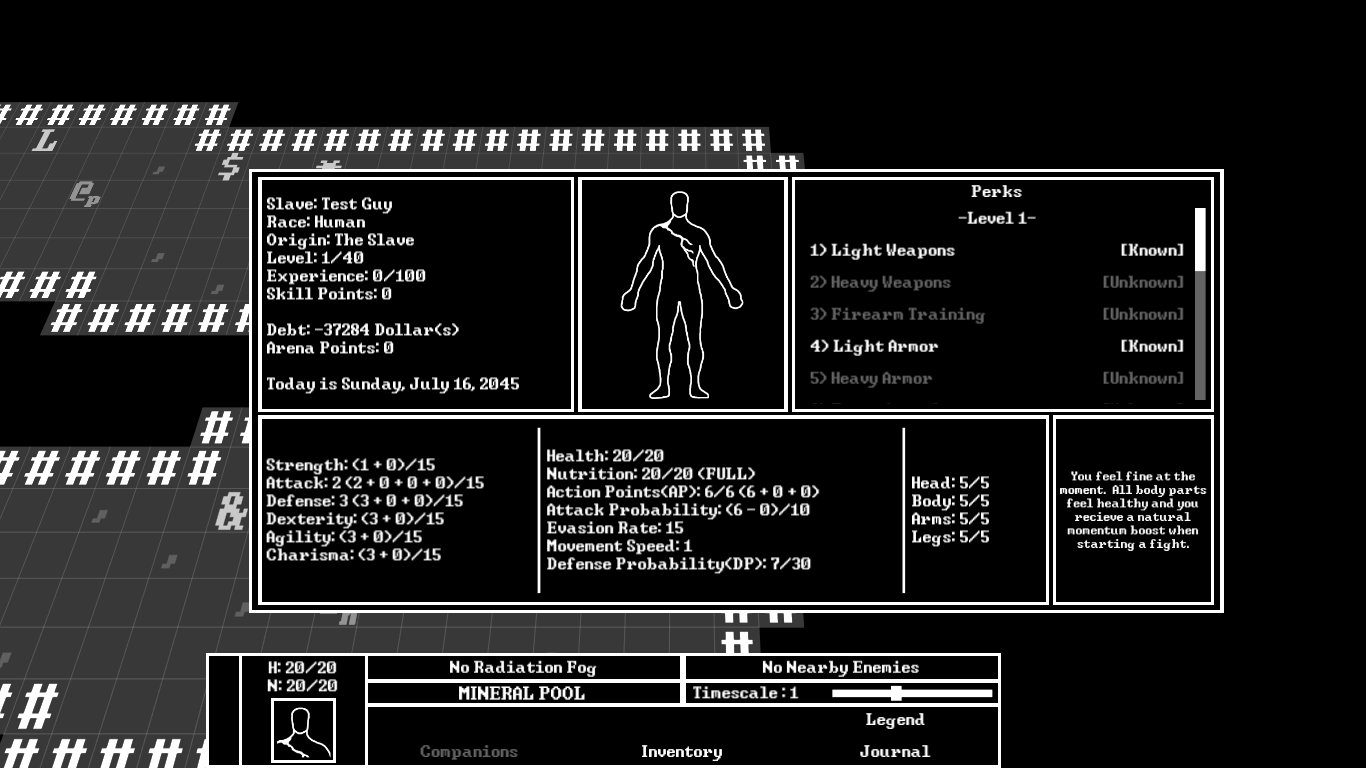 We have also extended our options menu further to include a full breakdown of the different image effects that the player can enable and disable instead of just having one large slider for all of them.
Filling Out The Overworld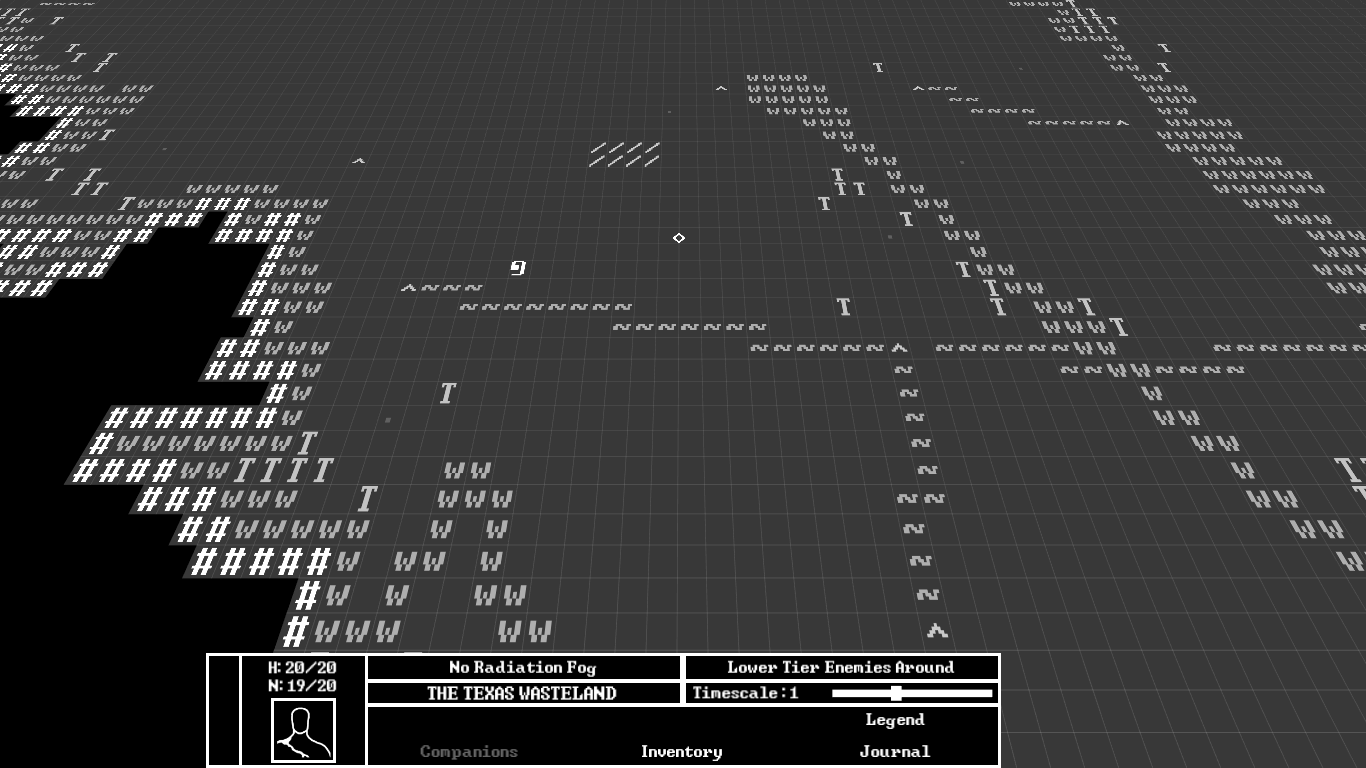 This will be expanded upon in the following update when we add more points of interest to the overworld, but for now we have begun filling it out more with having a new icon for trees. We intend for the wasteland to be a very waterlogged place, so having completely barren landscapes didn't make much sense to us, so now there is a little bit more to look at when out exploring.
Final Notes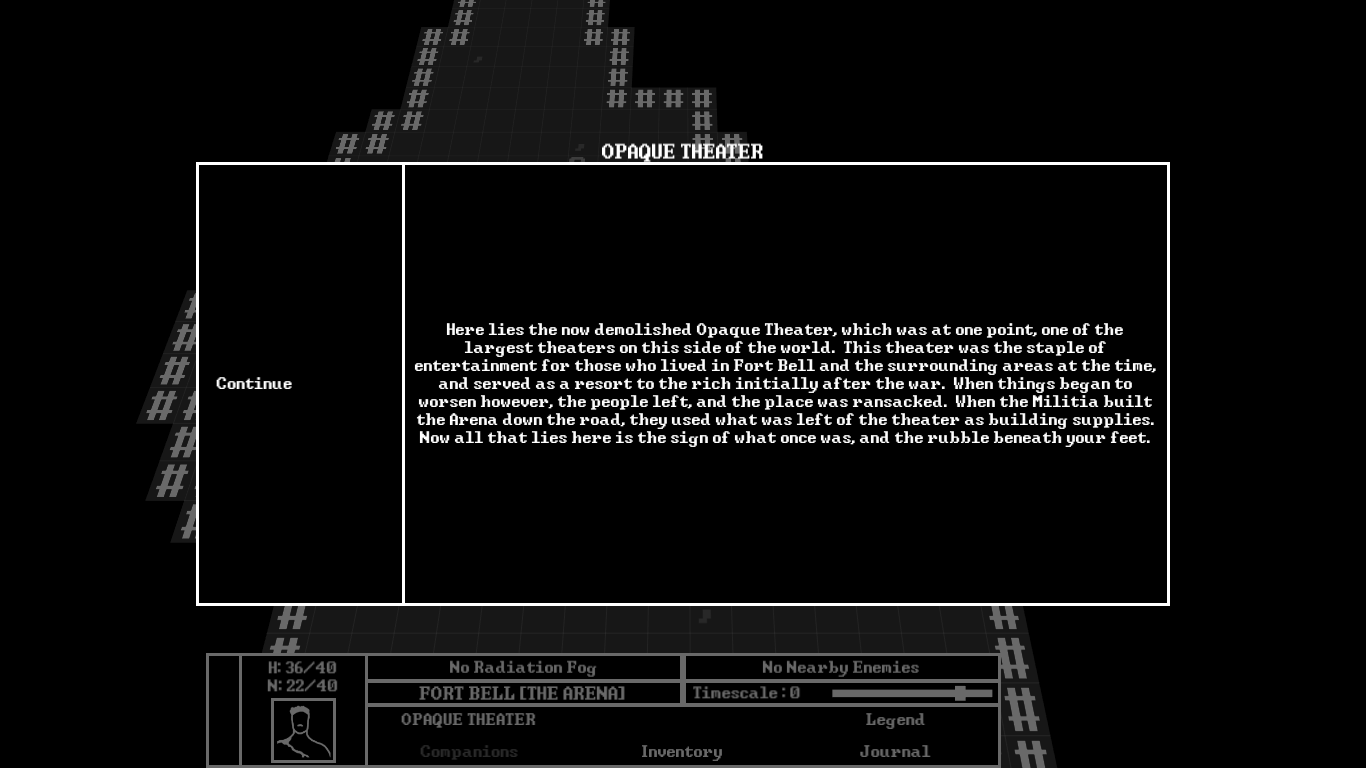 The next update will continue to expand upon the changes to firearms as well as adding more randomized events to the overworld for the player to explore. For now though, we would like to thank everyone for their support so far and wish you all a good winter break.