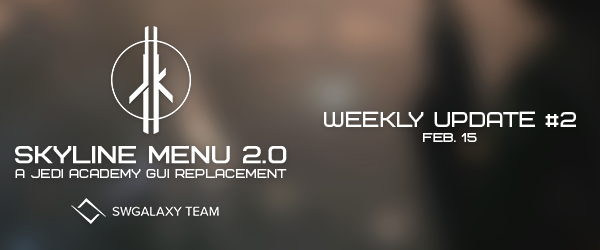 Hey there!
Today is Sunday, February 15, so it is the right time for Weekly Update #2! Briefly: this week was very-very interesting and productive for our team.
1. McFish Artworks
McFish kindly shared his work in progress artworks he are making for our GUI replacement (click on the pic to expand).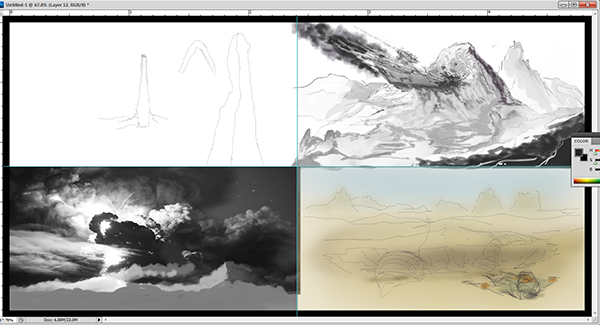 2. GUI screen templates
Good news - now it's possible to fully remade the whole loading process UI (like 'awaiting gamestate' + 'maploading'). I will explain how in the third paragraph. You can view the new UI design below.
Now let's talk about HUD.
In short: I've reworked some things and finished it :)
What have been changed: 1) tweaked crosshair (looks cool as for me, and it's pretty good ingame); 2) new weapons and items icons; 3) changed the basic structure of elements; 4) [!] we are using AngelSoul force icons again (been using them in SkyLine 1) - the best icons redesign I've ever seen so far; 4) now it's possible to change the fuel indicator + lagometer on the HUD, so it will be implemented too.
3. GUI code side
Yes, that's exactly what you think - we are creating our code add-on to JKA's render in order to implement different useful things like screen bluring (for ESC menu ingame), random splash display when loading the game, previously mentioned editable HUD elements and so on. Moreover, it will allow us to edit every UI we need to (I mean previously uneditable, e.g. loading map UI).
Good news for CIS players - our fonts now support Cyrillic symbols, so you would be able to play on your national servers and read chat in your native language.
In conclusion
Our team and project contributors are very happy to see such warm commentaries, mod popularity and community reaction overall. We are doing our best to bring the best GUI overhaul we could create. Thank you for your support. And don't forget to support us and our page there!
See you next week,
- Sentra, TopCrew of SWGalaxy Team
---

By the way, with the Humble Bundle's recent Star Wars pack JKA got a huge wave of new players!
SteamCharts says, that in the last 30 days JKA got +95.63% gain of player base, and each day the peak is about 500-600 players.
If you didn't buy Jedi Academy game for some reason, it is still the right time!