Hello and welcome back to another update of Forgotten Hope. Today's update contains some Luftwaffe themed renders, including one very odd hand-weapon. We also have an announcement regarding the official FH2 Youtube page.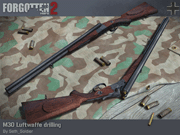 Up first, we have a brand new hand-weapon in the event you find yourself floating over the desert terrain. The M30 Luftwaffe Drilling was a hybrid weapon issued to German pilots in case they were ever shot down. Over 2,000 were produced by JP Sauer (also created the Sauer Pistole 38H) starting in 1941, and it featured two 12 guage shotgun barrels and a single rifle barrel. The weapon was intended to be used as a survival weapon, allowing the pilot to have some form of self-defense, and hunt game until they could be rescued. The M30 Luftwaffe Drilling was modeled and textured by Seth Soldier.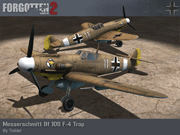 However, what good would a survival weapon do if pilots had no plane to fly in the first place? Next up we have a new plane for the desert, the Bf 109 F-4 Trop. This new variant included many upgrades from the older E series of planes. For one, the F series was much more aerodynamic than its predecessors. This was mainly due to all the redesigns of the fuselage, wings, and tail section. Yet this was not all the F-4 had available. A more powerful engine was added along with the addition of the new 20mm MG 151/20 cannons and the option to mount two more 20mm cannons under the wings. The Bf 109 F-4 Trop reached the front lines in June of 1941, and will replace the E-7 variant on some of our later desert maps. The MG 151/20 cannons and the fuel tank are both optional and will not be together as shown. It was created by Toddel.
We also would like to make one small announcement before we end today's update. Thanks to the hard work of our betatesters, Flippy-Warbear and Zrix, the Forgotten Hope mod now has its own official Youtube channel. Anytime a new video is created for FH2, you will be able to view it here.
That's all for this week, but be sure to come back next time for another update. Until then, feel free to visit our IRC channel and our public forums to discuss this update and other news.