The following post is from Elena, the artist behind K.I.S.A.
Hello, Elena here, the artist behind K.I.S.A! I'll be explaining how the characters are designed and then developed so that they work with the skeleton animation needed for the game. It is different from drawing a character normally, but still simple in its own way. Like any other drawing, each character (I'll be using the Guard in this example) starts off with a sketch to get a basic feel for the character. Even though the characters are only seen from the side in-game, I still like to do a front sketch as well to get a better feel for the character. Once a design is approved, I move on to the line art and colour stage.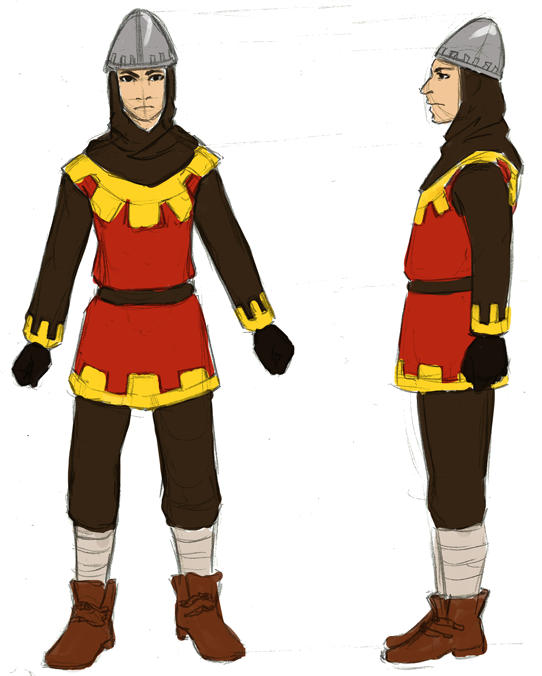 Here is where it starts to differ from a regular flat, static image. Rather than just drawing what you see (like in the sketches), I have to draw what you don't see as well. The back limbs can't be forgotten! Each body part also has to be divided so that limbs and torso can bend. So instead of drawing one segment for an arm or leg, it generally has to be broken into a different section at each joint (foot, calf, thigh, etc). Also, rather than just giving it a straight cut at a limb, I make sure to extend it into a nice circular end, so that when the limb bends, you don't see a break in the artwork and instead see a normal-looking limb. (You can see how I generally split the body and limbs in the image.)
This is generally all that is needed for the characters. Once each part is lined, coloured, and shaded, it is done. I also keep the shading to a minimum, so that when body parts move, hopefully there's not an awkward shadow in a place where it doesn't belong! The Guard, however, was a special case and so I wanted to talk about him some more.
While most characters would just have one part for the head (two parts, head and hair, at most), the Guard needed multiple sections as his design had multiple variations and options to create many different Guards rather than one single model, to add a bit of spice to the game.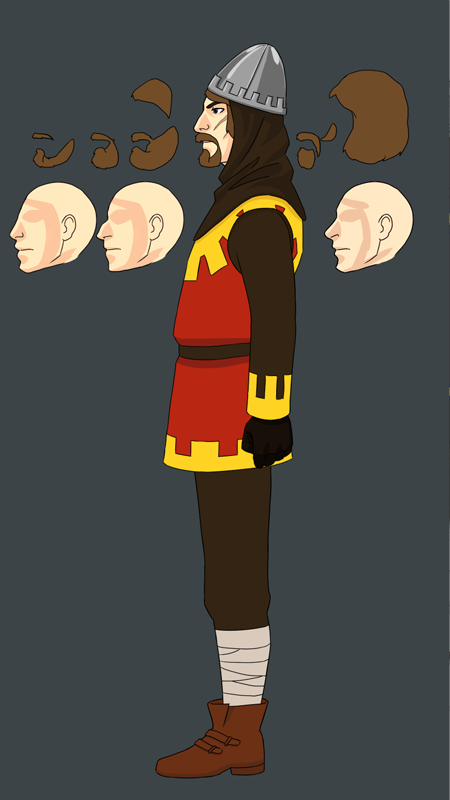 Each variation had to work with the next (like each beard or hair style had to work with the different faces), so I kept them relatively simple, but different enough so that they could look like different characters. Even a couple different body types and heights were designed for more variation. This is where the separate parts came in handy, as I only had to draw certain sections (like the face or torso) over again rather than an entire new character to get all the possible variations, which would be a lot once all the different hair, eye, and skin colours are added into the mix.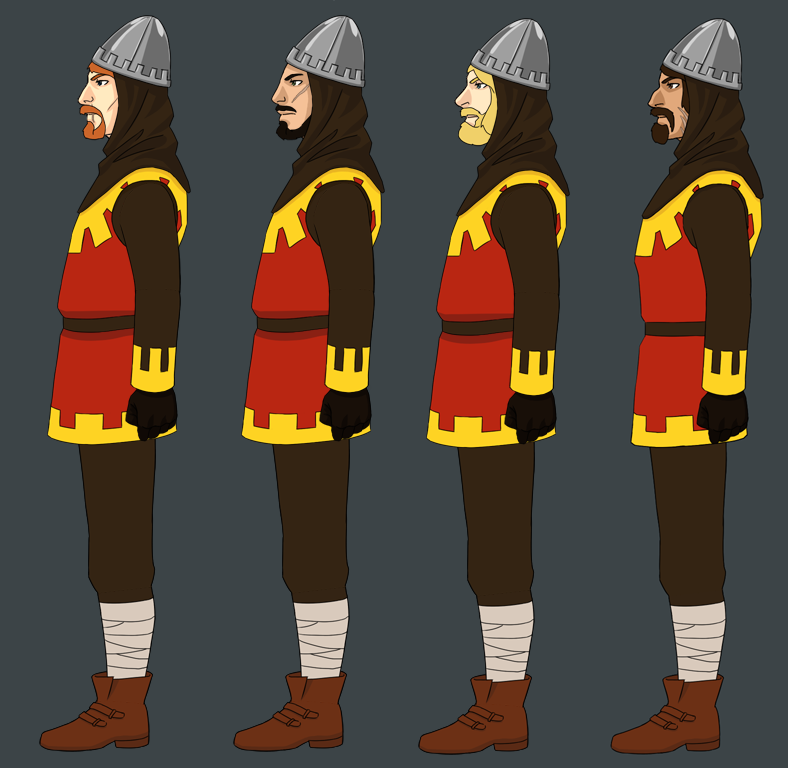 So that's how it's done! See? Fairly simple. The only "difficult" thing is to make sure each part is split properly so that it works with the skeletal animation, and following basic human anatomy then makes that a breeze rather than a hardship.