It's been a while since an IndieDB update, but Ultima Ratio Regum 0.2.0 is proceeding apace. Much of the progress has been either a) under the hood or b) secret, so I haven't had much to visually update you guys on. That's now changed, however, with the removal of the stupid number of skills that existed in 0.1.0 and their replacement with a skill tree system.
You can unlock all of a skill tree. The '@' denote where each begins. The challenge of choosing your path comes from prioritizing certain areas of the skill tree to collect early before the price goes up, but if committed to a particular skill tree, you can unlock the entire thing. The cost of each section of each skill tree goes up rapidly, but the overall skill cost does not. That is to say, if you have 100 XP to spend, you could either unlock ten starting points on ten skill trees, or – on a skill tree you've already purchased nine parts of – make a single purchase for the full 100 XP (these are not actual values, obviously). I think the rising costs for each skill tree offer an interesting way to make you choose decisions whilst still allowing for specialization. You will also be able to active/deactivate certain trees so you can only have a certain number active at once; that's to stop early-game skill choices constraining you if you want your character to change play-style later in the game.
Here are the four close-combat skill trees for the medieval era, as they currently stand. Let me know what you think; the next update will bring the next four medieval trees, and the one after that will finish off all the medieval skill trees.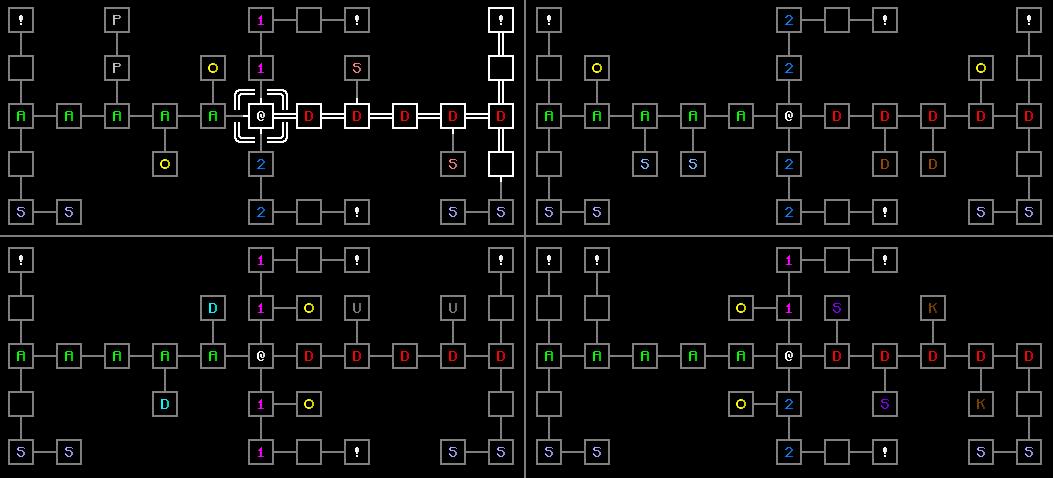 Full Size:
Media.moddb.com
White @ – Start of the Tree
Red D – Increased damage
Green A – Increased accuracy
Yellow O – Ability to spot openings in combat
Magenta 1 – Increased One-Handed Skill
Blue 2 – Increased Two-Handed Skill
Pale Blue S – Stat Upgrade (Str/Dex/End/Int/Wil)
White ! – Unlock a Special Attack
Grey P – Increased chance of parrying
Pale Red S – Increased chance of severing limbs
Cyan S – Increased chance of doing a sweeping attack
Brown D – Increased chance of dismounting foes
Cyan D – Increased accuracy when dual-wielding
Grey U – Increased damage against unaware foes
Purple S – Increased chance to stun foes
Brown K – Increased chance to knock foes back
These four skill trees appear on one screen; each era has three screens' worth of skill trees. I soon intend to implement different shades to show which skill tree you are currently browsing, and some other system to show which skill trees are "active" and which are "dormant" (a game mechanic still in the works). In redoing the trees a little I've tried to balance four directions, make sure each is worth going down, and also try to make each of the trees unique in some way (even though these four obviously have the same basic structure). You can read more on my devblog, Facebook page, or Twitter feed. The devblog is updated weekly on Mondays, Facebook a few times a week, and the Twitter roughly daily. Any thoughts, please leave them in the comments!