Greetings Fleetmasters and Admirals!
Today we're releasing Sins of the Prophets: Warlords, version 0.90 of the public beta! That's right, we're finally far enough along to call this crazy thing a Beta now. With sixteen months since our last release we have finally left our cave on Reach with a new catechism from the Gods, and we're so thankful for your patience and your support. (See bottom of article for v0.90.2 changelog.)
After the innumerable changes we have made over this time a formal changelog would be more nonsensical than helpful. So, this release article will be detailing the broader changes and focusing on the holistic vision for this update.
As we work on this total conversion and we seek a more perfect interpretation of Halo's space combat, the mod has transitioned through several iterations since the last update. Multiple combat models were tested and tweaked until we found something that we felt was authentic and fun. Eventually Sundered Echo, known for his work on the Mass Effect mod "Dawn of the Reapers", joined the team as a designer and coder; with his support, we were able to finally tighten the game balance to acceptable levels. Since his arrival, we've vastly improved as a team and have discarded our conventions in order to find a better way forward. With that aside, let's get into the meat of this update and help you understand what you're getting today.
---
Leaders

One of the major changes to the mod is the inclusion of leader-based research. This was heavily inspired by titles like Halo Wars, where you have factions and gain access to unique units and stats through leaders within those factions - effectively subfactions. In Warlords, this inspiration is represented by your ability to choose between one of three leaders for each faction. The UNSC has Fleet Admiral Lord Terrence Hood, Vice Admiral Preston J. Cole, and Vice Admiral Stanforth while the Covenant has the High Prophet of Regret, Supreme Commander Thel 'Vadamee, and Imperial Admiral Xytan 'Jar Wattinree.
Each of these leaders was designed to enhance certain styles of play, and you can read all about them in our dev diary titled "Lead into the Stars" (Moddb.com).
---
Research

While the inclusion of leaders is a large component of the update to the research menu, the whole system saw a shift in focus from a myriad of small techs to a tree where each item was more meaningful and had a larger impact on the moment-to-moment state of the game. We moved from an eight-tier system to five tiers, which allowed us to simplify the UI for the menu and use larger buttons. We also chose to integrate the ship supply and command techs into the other research tabs so that we could that space for the leadership research.
You can read more about our decision-making process for this part of the mod in our recent article titled "Technology Dictates Tactics" (Moddb.com).
---
Culture

We had originally found the culture mechanics of Sins of a Solar Empire to be inappropriate with Halo's setting, especially since in the vanilla game hostile culture can actually lead to your own planets rebelling due to the overwhelming power of the enemy's cultural influence. This makes little sense in a universe where the enemy is a hegemony of genocidal aliens or a cohort of heretical vermin. However, we reevaluated the utility of the system and found that there was merit in removing the teeth of culture and enhancing the internal "economic" benefits of using the system. You can read more about this and the changes to logistical structures in our dev diary called "Articles of Faith" (Moddb.com).
---
Balance

Individual unit statistics, combat behavior, and the balance between factions and leaders has been where we've focused most of our attention for Warlords. We have brought back more complex weapon, damage, and defense (armor) types to enhance the strategy and tactics present in the mod, including adjustments to ship speeds. The effect of this overhaul is a more competent counter system and the availability for more nuance in fleet composition. We cover this in great detail in our most recent dev diary, called "War Never Changes, but Combat…"(Moddb.com).
---
Art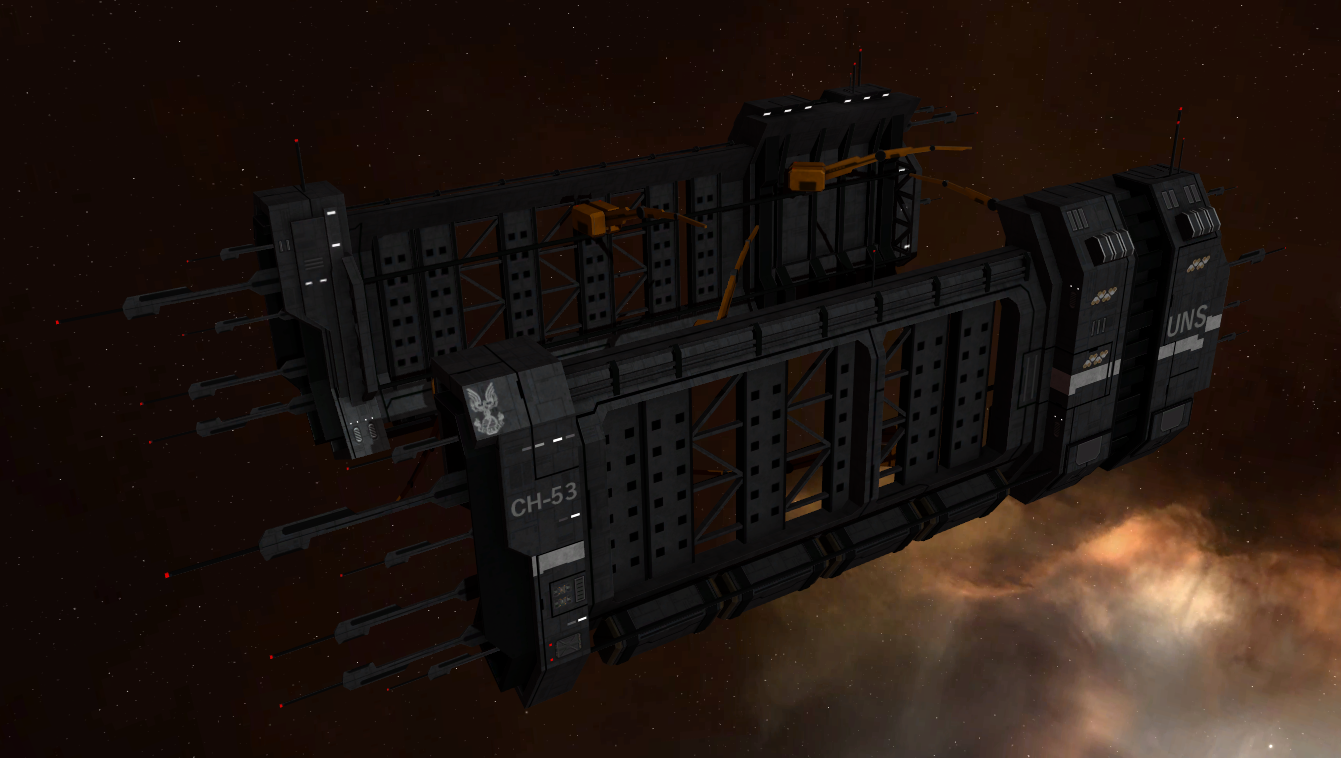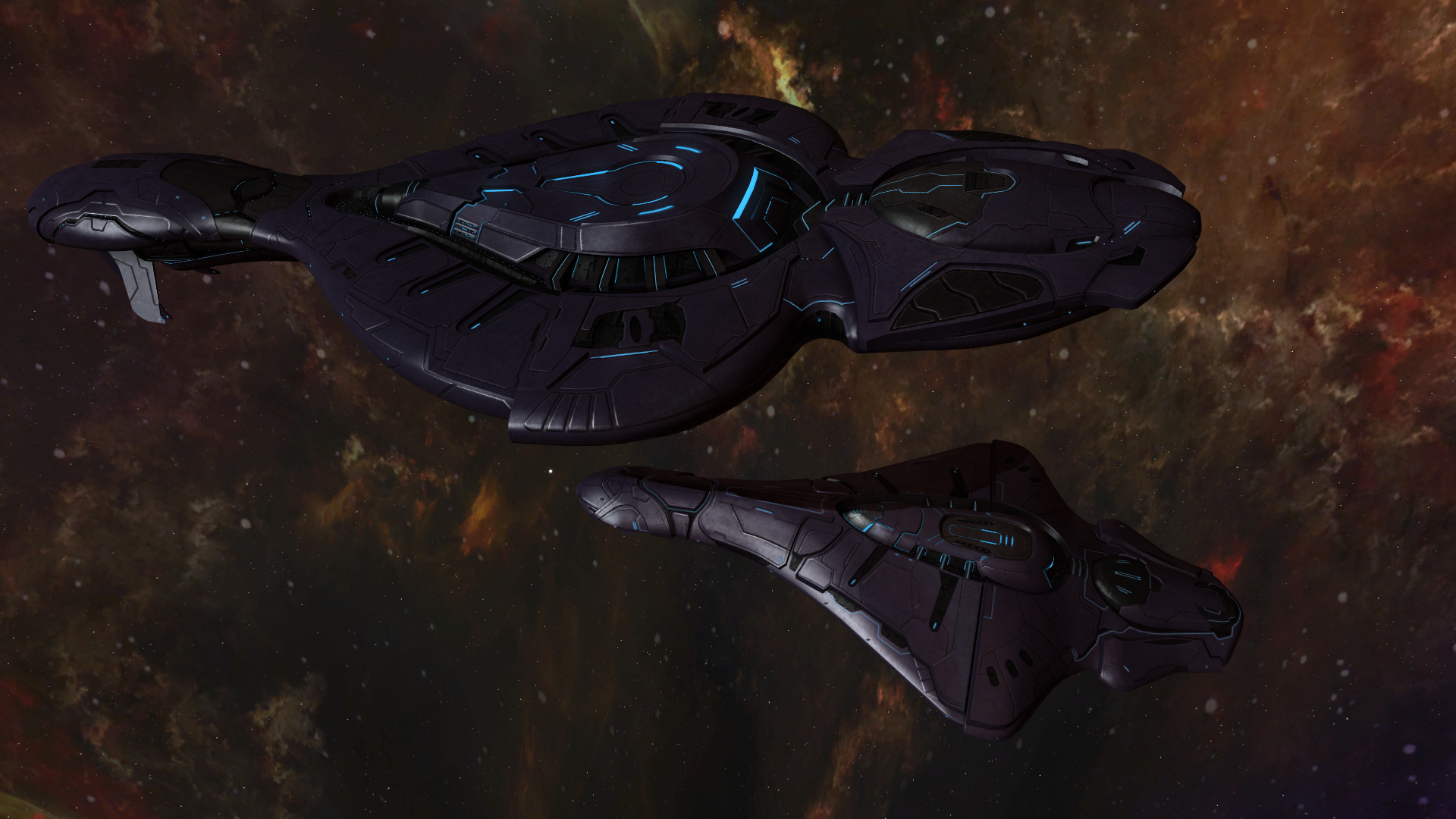 With sixteen months and several new systems, this latest update allowed the art team to address a myriad of assets, both new and old. The introduction of the leader system allowed us to experiment with differing design styles and finally bring to life many of the ships which we had otherwise not been able to or had been pushed out of the main roster, including the Athens and our own homegrown battleship, the Thanatos-class. Over the hiatus, our new artist, StellarStateLogic, did some spectacular portrait work creating a custom San'shyuum Prelate portrait, while LordSet modeled us a completely new shipyard, and Zero contributed an awe-inspiring Ark model to backdrop a brand new "King of the Hill" game mode.
Our resident particle experts reworked many of the existing particles and added some striking new effects which bring a lot of life to the improved combat flow. Overall, nearly every art asset has been upgraded in some way since the last release and we're hoping that the changes add just that much more immersion and excitement to your SotP experience.
---
Sound
While not much has changed in the way of sound effects for this release, a few things have affected the mod's sonic identity by and large. Chief among these are the various additions to the ship rosters' voice performances. Honorable mentions are the overhaul of the Artemis (voiced by Kaitlyn Dias, from the cast of Disney's Inside Out), removing distortion and other imperfections, inclusions of the Halcyon Refit, and several Covenant ships such as the DRP and DDS.
As previously mentioned, not much has changed in the way of sound effects, however there are new SMAC audio effects for ships and orbital defense stations. The effects were created by combining the enthusiastic impact of a car door, the hammering of a large drum and distortion on a large plate reverb. There are future plans to modify more of the mod's weapon sounds, but that is a topic for a later time.
---
Download
---
Want to talk about this awesome update with other dedicated SotP fans? Become one of the 2800+ fans already in our Discord server!
Join the community!

Facebook Page | Facebook Group
Twitter | Subreddit | Steam Group
---
Sins of the Prophets v0.90.2 Changelog
Fixed issue with game UI scaling to lower resolutions improperly

Fixed issue with Relationship menu portraits incorrectly displaying

Fixed issue with research glow effect being incorrectly scaled

Fixed potential runtime error on game launch

Fixed Microwave Generator not having an icon on Anchor Stations when upgraded

Fixed Punic build icon displaying incorrectly

Fixed Punic ability "Objective: Survive" icon not displaying

Fixed Baselard bounding box issue that allowed the player camera to clip into the mesh at closest zoom level

Fixed Baselard having engine particles spawning in the incorrect position

Fixed Athens lacking engine particles

Fixed Stalwart engine particles spawning in the incorrect position

Fixed ADP fleet auto-join behavior

Fixed ADP stat card incorrectly displaying SDV stat card

Fixed Artemis Fast Charge ability toggle state string

Fixed ORS description (no longer claims to be a colonizer)

Fixed EXP frigate that spawns from CAS and OSS. No longer has 7k health when leveled so it won't cause fleets to break targeting during combat

Fixed Flood World spawning with neutral faction vanilla constructor ship