Greetings, reclaimers - SpaceBat here.

It is with a happy heart I'm announcing the public release of the soundtrack for Sins of the Prophets on a worldwide scale. It is now available for streaming on Spotify, Apple Music, Pandora, and anywhere else you listen to music. (A YouTube music release will come at a later date, sorry!)
To preface this post, I want to lay out some quick nuggets of information, as well as answer some questions readers might have.
---
The Gist
This soundtrack is the construct of four years of dedication to the mod. In that time, the sonic identity as I like to call it has been completely revamped to more suitably represent the spirit of Halo and the mod. I have mentioned it before, but for those that are unaware (ostensibly or otherwise) the old soundtrack composed by Waseem has been replaced by this soundtrack to suit the change of identity and evolution of the mod from how it was before Warlords, to how it will be when Sins of the Prophets 2 releases in the future. More about that can be found here for the sake of not repeating the whole story: Moddb.com
Sins of the Prophets is changing, and ever since I was brought on board to do the new soundtrack, it was clear that a new vision was in mind by its purveyors, one which I've strived to meet. My success or failure will be determined by your perception of the music I present to you today. Some of you, perhaps even many of you, have already heard most of this music as I'm not one to shy away from sharing with the community what I'm up to. I want to impress upon anyone reading and listening that this soundtrack is my love letter to Halo as a universe, to the community of Sins of the Prophets, and to its creators.

The mod is a monumental undertaking supported by more than fifty developers across the entire globe, by people who have day-jobs and personal lives from which they find time to participate, and testers who endure the harshest of smack-talk on a daily basis. Their criticism, support, and interest has allowed me to become part of something unforgettable and truly beautiful. To lend one's ears is a charity for which a musician can never repay, and I am grateful to you all.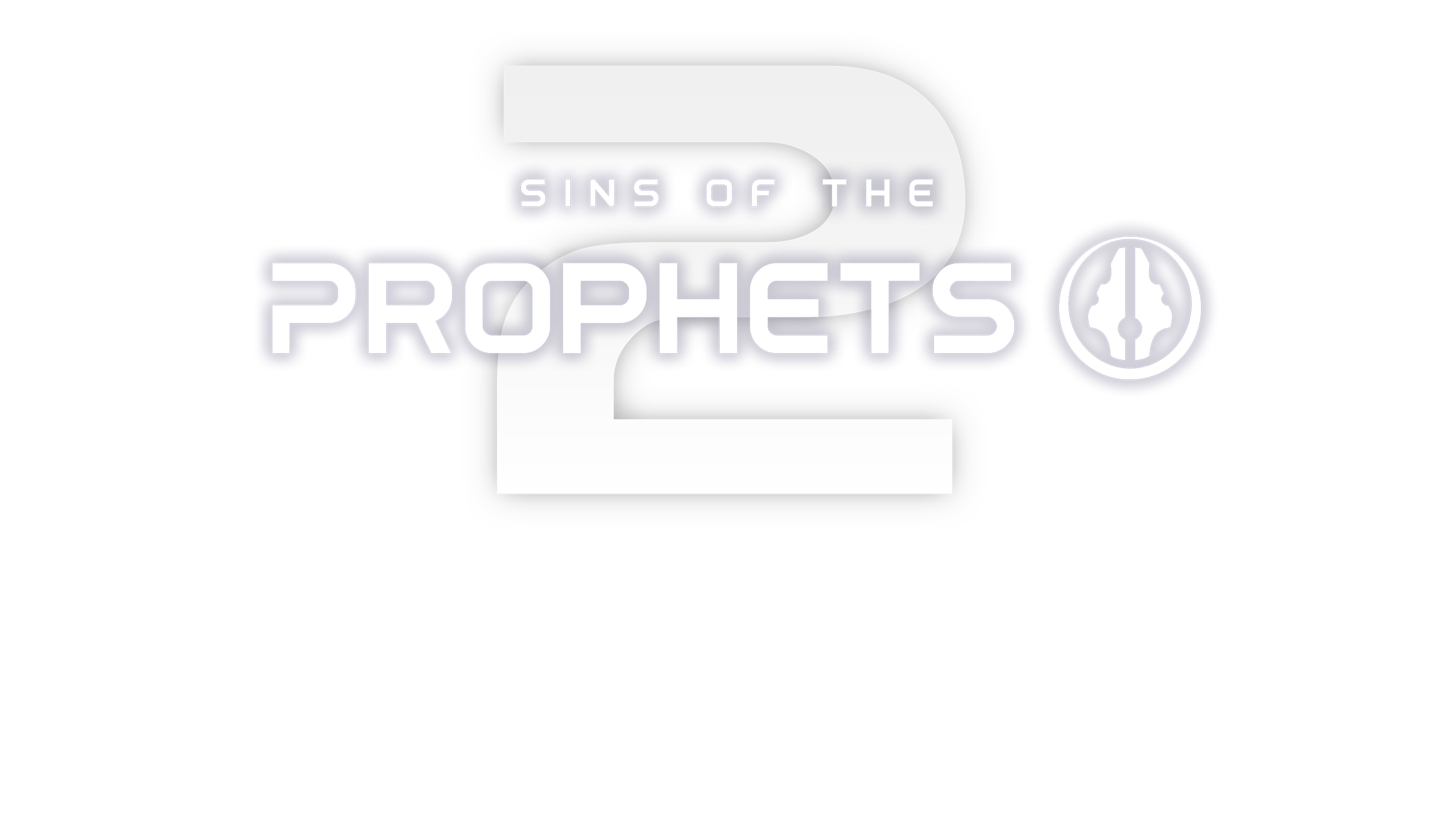 ---
The Music
This volume features music selections from the mod primarily fixated on the UNSC and the Covenant. I discuss the considerations made for a few of the tracks in the ViDoc I released last year (which you can find here), but one of particular importance is the sound for the Covenant which I've described on more than one occasion as being a difficult challenge to approach. The tracks "Zealot Class" and "Prayers of the Clairvoyant" serve as answers to that seemingly insurmountable dilemma. I wanted them to sound and feel imposing, ancient but also quite dark and ethereal. The result speaks for itself.
The UNSC is very straightforward. Perhaps to its benefit, every UNSC themed song is identifiable almost immediately (and if not, eventually). Steady drum cadences, rising horns, and a familiar but original melody to accompany the rising action - this is most noticeable in the track "Colonial Cross". Many of their songs are derivatives of this track in some fashion or another, mostly for the sake of consistency but also to avoid obvious interrupts while playing in game. There's a sort of goldilocks zone here, where too much variety makes the transitions noticeable, but not enough proves to be boring. This was the primary challenge with UNSC music, but in the end proved to be an easy enough challenge.
While the Banished are not coming until SOTP 2 releases, I felt it was important to start sneaking in music from their neck of the woods on Volume 1. "Legionnaire", "Fight Hard, Die Well", and "Bear Witness (Single Edition)" are all centered around the thematic elements I've ascribed to the Banished: Large drum circles (12 piece drum kits), heavy brass sections, electric violas, and rousing major chords hoping to inspire equal parts dread, grandiosity, and heroism. Anyone that has played Halo Infinite is very aware of Escharum's personality, and I wanted to capture it in a different way than HI did - in fact, it's no secret that I fundamentally disagree with the musical approach the Banished have received in Infinite. They are more than just Brutes - tribal music is reductive for what is supposedly the strongest and most diverse representation of alien military might in Halo history. As such, I wanted to reflect the faction's nature of pride and fervor rather than its "tribal" characteristics. The result is a set of heavy hitting and dramatic themes which will be expanded upon in Volume 2.
---
That's All
The album is done, you can listen to it everywhere you prefer to stream your goods, and if you prefer to purchase your music, it is available on Amazon and iTunes for purchase as well. Sometime in the spring I will be printing physical copies of the album and handing them out to Chokepoint developers as "gifts'' for their contribution to the mod and my appreciation for their efforts as a member of their team. Should any survive the gifting ceremony, I will offer them up for a small penance on my Bandcamp at such a time. Also: be sure to check out the single "Bear Witness" on Spotify or any other streaming site. It isn't included on the album proper, so don't miss out on what is arguably the best song in the catalogue to date.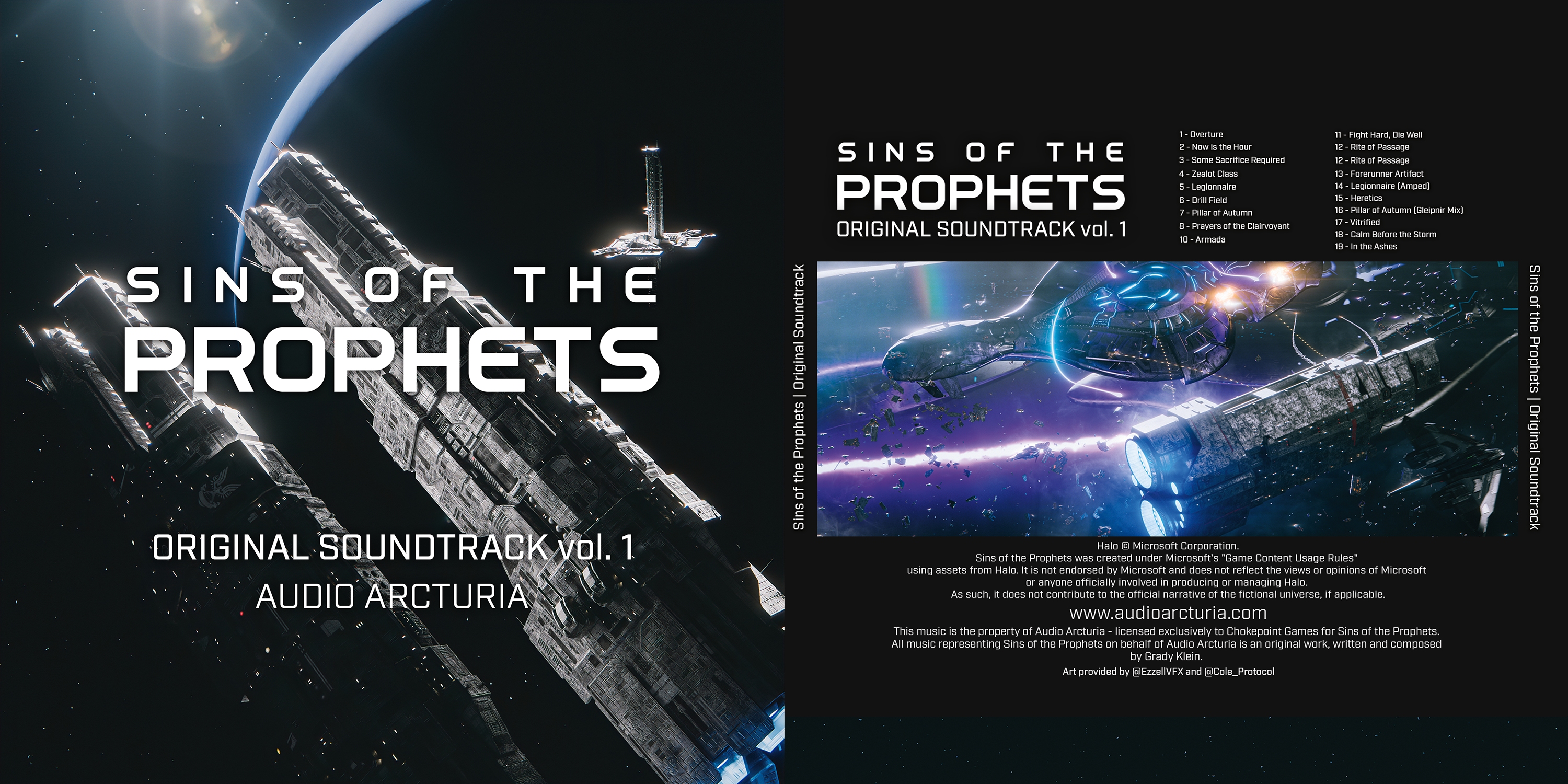 Thank you, all of you, for reading and listening. This soundtrack has been a genuine labor of love, and I will treasure the experience and end result for as long as I write music. I didn't want to do Halo music, and I have no aspirations to be a professional composer, but this was the perfect way to hang my hat and say "I wrote something for someone other than myself", finally.
I hope you guys stick around for the release of Sins of the Prophets 2 - progress is being made and regular updates are coming soon, and I hope that you all allow the music here to be a part of your Halo playlists on and into the future.
- Spacebat (Grady Klein of Audio Arcturia)
CARPE TUAM MORTALITATEM IRA
---