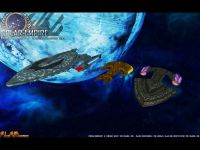 So Freunde des Sins of a Solar Empire - Future Wars - Tactical Simulator!
Das warten hat eine Ende, wir sind soeben dabei die vierte Alpha Version hoch zu laden, wird also in wenigen Stunden zum Download bereit stehen.
Wie bereits angekündigt enthällt die vierte Alpha:
- komplette Maquis Rasse inkl. abtrünnigen Sternenflotten Offizieren,
Bajoranern und Ferengi (Schiffe, Stationen, Techbaum, ect.)
- die 4 ersten Rassen Föderation, Klingonen, Romulaner und Dominion
- Bugbeseitigung der dritten Alpha
- ein paar kleine Änderungen die erwünscht wurden
Auch in der vierten Alpha erhoffen wir uns eine genau so großes
Feedback, wie bei den ersten drei Alphas. An dieser Stelle auch erst
mal einen Dank an die Leute die so ausgiebig getestet haben!
Mod Versionen für: Original SINS Version 1.13 - 1.181
(Mod ist in Deutsch)
Mod Version a0.4 ist eine eigenstädnige Alpha - ihr braucht vorher nicht Version a0.1, Version a0.2 oder a0.3 installiert haben.
Feedback oder Bugs bitte unter:
Danke für eure Hilfe!
Viel Spaß beim spielen wünscht das gesamte F.L.A.M. Modding team!
Drako - F.L.A.M. Modding Team
-------------------------------------------------------------------------------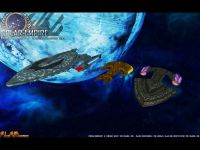 Dear friends of the Sins of a Solar Empire - Future Wars - Tactical Simulator!
Waiting has an end, at the moment we are uploading the fourth alpha version, will be done in a few hours.
As promised the fourth alpha contains:
- the complete Maquis Alliance consists of renegade Starfleet officers, the Bajorans and Ferengi
- the four first races Federation, Klingons, Romulans and Dominion
- bugfixes of the third Alpha
- some small changes as requested
We hope that we get the same big Feedback as in the first third Alphas. A big thanks to all alpha tester!
Mod version: original SINS Version 1.13 - 1.181
(Language is german)
Mod version a0.4 is an stand alone alpha - you don't need to install the version a0.1, a0.2 or a0.3.
Feedback or Bugs:
Thank you for your help!
Have a good time with playing wish you the F.L.A.M. modding team!
Drako - F.L.A.M. Modding Team