Single player bot
Sinking ships

Released March 21, 2021
Designed for modification of Generals Project Raptor War Commanders 9.1.19 fix 5
Recommended game speed 40-50
Installation instructions inside the archive \ تعليمات التثبيت داخل الأرشيف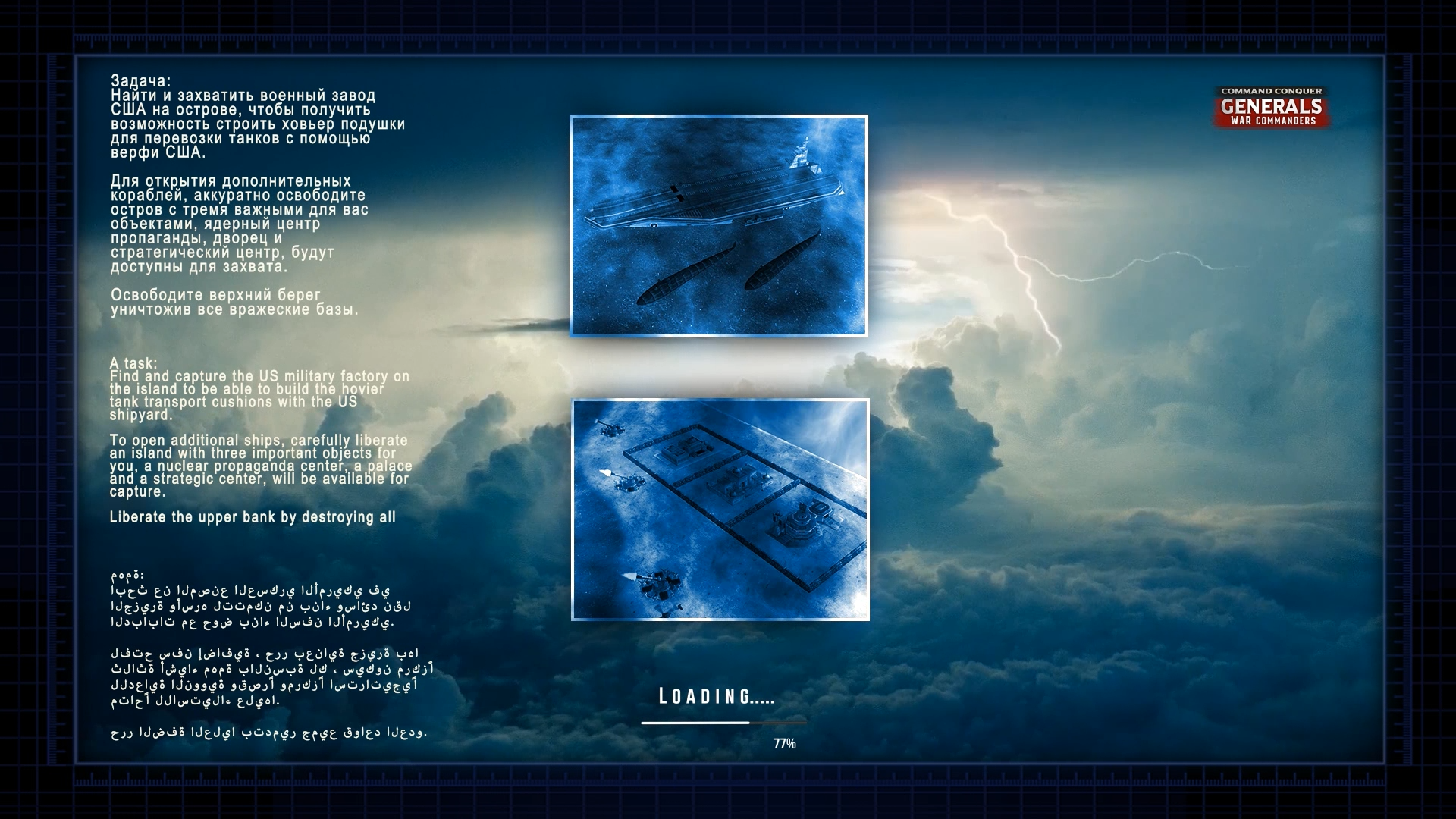 The player plays for the AOP.
The gameplay will be accompanied by video inserts and instructions in three languages ​​at once,
Russian, English and Arabic.
The artificial intelligence is designed in such a way that the bot can act in different scenarios and differ from your previous repeated games. There are dozens of combinations that can put players in a difficult position when the bot chooses more vulnerable spots.
The priority targets are now not only for troops, but also for bot upgrades and super weapons.
The storyline is based on four generals, there will be several generals on your island.
At the beginning, the task is to survive on your island, when the bot's attacks are weakened, it is necessary to capture neutral shipyards located along the large coast.
But before that, make sure that your island is completely under your control, otherwise the laser general will start building tanks right under your base.
Use ships to securely capture buildings such as the China Nuclear General's Propaganda Center, which will allow you to open submarines in China's shipyards. The palace will allow building large GLA ships. The strategic center will allow you to build cruisers. Do not forget to cover these three key buildings, with them it will be easier for you to pass the bot.
For the destruction of an aircraft carrier, you will have access to gaining ranks, initially only one increase will be available. The aircraft carrier will use a variety of aircraft such as Toxin Bombers and Aurors.
Initially, only two nuclear missiles will be available for construction, after construction you will not be able to build new nuclear missiles. But to return the opportunity to build nuclear missiles, it will be possible to accumulate $ 200,000. When you collect this amount on your balance sheet, this money will be written off and the opportunity to build an unlimited number of nuclear missiles will open.
To defeat the bot, the main task is to completely destroy all the bot's troops on the upper island.
The total bot creation time is 64 hours.
A video playlist of the creation process in WorldBuilder, half aired:
Sponsor activities:
PR, advertising, information support, photos, videos, streams, bots, etc.
www.donationalerts.com/r/project_raptor