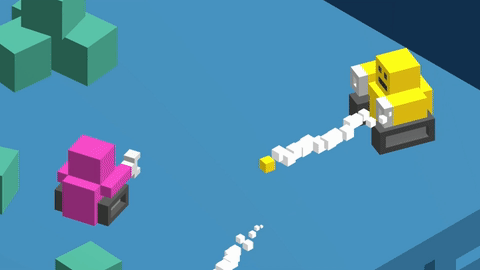 One of the most commonly requested features of BotSumo is a single player version of the game, as the game right now requires 2 players, and often you're not able to grab someone there and then.
There's two ways I could expand this, one into online multiplayer, which has been requested so many times - although right now I don't think I'm skilled enough in the technologies that would make online multiplayer possible. The other is to create a local game with an AI opponent. I'm lucky that someone has actually volunteered to write this, and so it's coming soon!
I'm not sure yet if I'll make this available in the single player, but I'll definitely add it to the paid version (BotSumo: Battle Arena) first.

Another area of expansion is to create a campaign of puzzle-like levels. In my head these would be a small maze that has to be traversed, pressing buttons, avoiding traps etc before getting to a goal. It's totally different to what BotSumo is about right now though, but I think it's something a lot of people might enjoy, and could be a good way to get used to the controls before playing with another person.