Development on Sim Hero has continued (albeit slowly) since the end of the Kickstarter campaign.
We're excited about the changes/fixes/new content we have coming your way, so here's the first few things we've been working on. Most of it is GUI-centric.
1. New GUI
The new (and vastly improved) GUI will be apparent from most upcoming screenshots. My partner in crime (for this project) has been hard at work and it shows. Here we have an early screenshot of the top area GUI (before we put in the tileset changes):

Instead of simple text telling you the season (spring, fall, etc), we have a lovely tree which will change with the season.
You can cycle through the parties to show the one you are interested in editing, and click on a hero to swap someone else in -- all from the main screen!
There are also a few "quick buttons" on the left to get you to important information faster.
Current Status: Just cleaning up a few bugs and it'll be ready to go!
2. Cleaned-up menu
So, this one isn't as large of a change, but the menu got a little nip/tick to fit more information. We also cleaned-up a few bugs/graphical annoyances: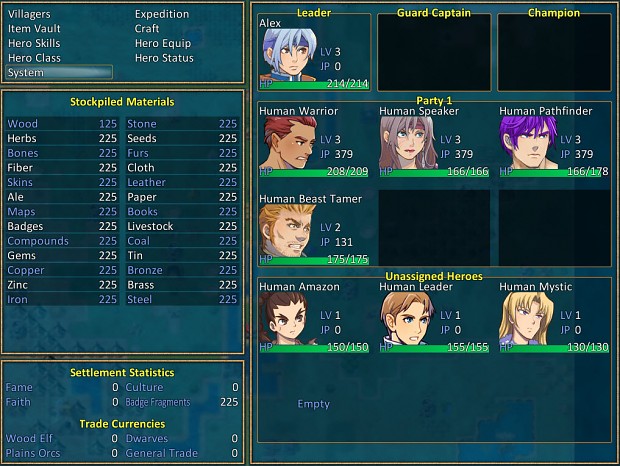 Current Status: Finished!
3. Villager Control
While the controls themselves remain largely unchanged, the screen got a visual makeover: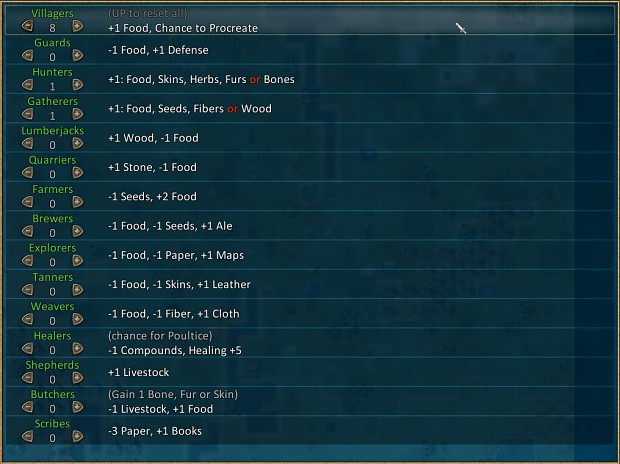 We hope to add in more control (+5/-5, etc), but we'll see how high on the priority list that goes.
Current Status: Finished! (for now)
4. Leader Actions
In-between events (once per event) your leader may take an action to train for XP/JP, make a public appearance and more. One of the many things we're doing to A) give you more to do and B) give your leader more XP!
Current Status: Several actions done, adding more in the near future.
5. Heartbeat Cheating!
Well, "cheating" is perhaps too harsh a term... But there was a way in the current Sim Hero version to stockpile resources without much effort. Ahem. That has been fixed.
Current Status: Fixed!