I don't want to give you the impression that the project is standing still so it's about time I wrote something again. I have been busy, working almost non-stop the past few weekends and at least one workday evening each week. One reason I've been quiet about it is that what I've been implementing isn't new, it's all been there before and you've already played it. I've been re-writing large parts of my engine since it was very hard to maintain and expand, in fact I've re-written almost all of it. So I haven't felt there to be much value in showing features that were already there in previous versions. Please let me know if you'd be interested in that stuff anyway, after all it would be nice to have more reason to drop more frequent updates (though they would be mostly technical in nature).
Some things are new though. The levels are in 3D now. The level layout is the same but it adds true perspective to the environment instead of the 2D trickery I had to do before which were sometimes annoyingly complicated. This also opens up for adding lighting and other cool 3D stuff. For now the characters remain two dimensional just like before so gameplay stays the same. I will look at adding 3D physics for debris and level props.The other major thing is that I've made a new and better way to render decals in the level (blood on the floor and walls, bullet holes etc.). It should give a substantial performance improvement, not just because the new method is faster but also because the decal drawing has been the number one bottleneck before. It looks promising but I need to do some full out tests before I know for sure.
So what we are looking at before the next demo release is for me to finish implementing the features that were in the previous demos. From a top perspective and without diving into details, that would be the AI, the weapons and some level design.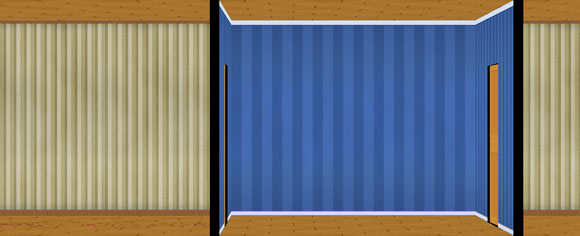 Screenshot of new level with the new 3D perspective.
Again, please leave a comment if you'd like to see more updates. Bye for now and thanks for your support!